With the hope of transforming the lives of visually-impaired children in Guyana, Canada-based Guyanese Raj Tribhuwan has started a project to deliver education through computerized technology.
Tribhuwan, who has been blind since he was a toddler, migrated some 25 years ago and said he owes his education and ability to function as well as a sighted individual to the advancements of technology he has been exposed to while living in Canada.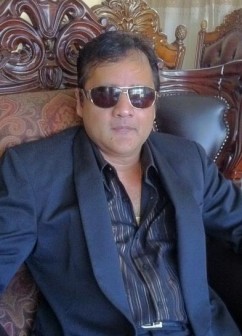 "He grew up in Guyana, he attended school here 30 years ago and now that he is back, the situation is exactly the same as it was… But when he went to Canada he was able to completely transform his life, become educated. He travels all over Ontario teaching computer and access technology to blind people," an associate of Tribhuwan noted.
After a recent visit to Guyana, Tribhuwan said he was shocked to discover that the schooling system he left as a child remains the same for those who are disabled.
As a child, Tribhuwan said, he attended the David Rose School for the Handicapped and after some decades, he indicated that the same methods are in place, limiting the capability of the visually impaired children who seek an education at this institute.
"The same method they used to use when it comes to accessing a textbook which would be someone reading it on a cassette or read it in Braille. From then to now a big transition has taken place technology wise but it's not here," he said in astonishment.
Tribhuwan formed 'The Raj Tribhuwan Foundation' some four years ago on his 50th birthday and made it his goal to bring access technology to the visually impaired.
He came to Guyana to launch the programme and network with the relevant persons. At the same time, he did some assessments with the guidance of Optician Don Gomes, who sits on the board of the foundation and also serves as the Guyana representative.
"What I left here is what I came back and saw, nothing was improved technology wise," he noted, adding that he is aware of the impact technology can have on a blind person's advancement.
The first step, Tribhuwan explained, is to supply systems to the various units which would be made available for the visually impaired to access. He indicated that the foundation will be providing ten units and among the places they have listed to house the equipment are the St Roses and Linden Blind Units, the University of Guyana and the Public Library.
He pointed out that this will be an ongoing project, considering that training will also have to be involved, and a budget has not yet been prepared. Until the assessment phase is complete, an estimate can not be given, he said.
An average for the ten units was made at US$20,000 and this money will be raised through fundraising activities. Tribhuwan said he is confident the money will be acquired as he has had amazing feedback from both Guyana and Canada. However, he cannot yet put a timeline on the completion of the project.
When he visited the St Rose's Blind Unit where he also met a teacher from the Linden Unit, he was informed that 12 and 24 visually impaired students attend each school respectively.
"St Rose's has computers but they don't know how to use them," Tribhuwan said. "Within half an hour, I was able to show the teachers. They have had them for a while but were never trained," he said.
After being exposed to the present tools used here in Guyana, Tribhuwan said he has decided that the computers he supplies will be equipped with the software called 'Screen reader' which makes each system audible. "At the school, they had a computer that wouldn't even start using Windows 98 and we are way ahead of that right now," he added.
In the meanwhile, the foundation will present the St Rose's unit with a laptop which has the access technology software to train the children on how to use the internet, excel and other programmes.
In addition to this, Tribhuwan said, he has since conducted meetings with members of the Guyana Society for the Blind and was told that they hoped to set up a technology lab and a request was made for six computers.
"It would be like a training centre where people can go and study. They also spoke of an audible library and it has been something I had in mind. I told them I will get involved because I know of audio books and formats and so. We are still in discussion about that," he said.
The Guyana Telephone and Telegraph (GT&T) company has also promised to support this project in the form of providing wireless internet to locations where these units will be placed.
"The Ministry of Education is supposed to have these things in place, for example, to have internet in schools… and from what I heard from older students, in the areas of disabilities, they are pushed to the back burner, it is not being prioritized," Tribhuwan said, adding that the ministry too is now on board.
He also revealed that the foundation is looking to roll out an access technology programme in schools across Guyana which is already in progress and they are hoping to have this completed before the end of this year.
"I want a blind person to be ready and can compete with their sighted peers, to say yes I will go and apply for this job at the bank or at the ministry because I have the skills and with the computer, they can do it… there's a big gap and we can do it," he finished.
Around the Web