Police Commissioner Henry Greene will know on Thursday whether or not his High Court applications to block a rape charge being instituted against him were successful, when acting Chief Justice Ian Chang makes his ruling.
On February 7, Justice Chang granted applications for the Director of Public Prosecution's (DPP) advice to be placed on hold and to temporarily bar the police from instituting the charge against Greene.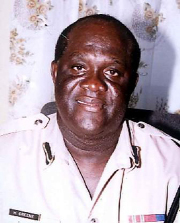 Greene proceeded on leave last year, just over a month after the allegation surfaced, to facilitate an investigation.
Chang's ruling will come after hearing arguments from both sides. He had repeatedly asked for the DPP to produce an in-depth analysis of how she arrived at her decision. It is unclear if this was part of the written defence she had submitted to the court during a ten-day deadline.
A team of lawyers headed by Senior Counsel Rex Mc Kay moved to the court to block the police from charging Greene after reports surfaced that the DPP had recommended that he be charged with rape. The file on the matter had been at the DPP's Chambers for some time and at one point the file was resent to the police with instructions to take a further statement from the complainant – a 34-year old mother of two.
The woman had alleged that she was sexually abused by Greene on the night of November 22 last after she had sought his assistance in solving a police matter. The incident, according to her, was committed at a city hotel.
The woman, in the presence of attorney Nigel Hughes had related to reporters that Greene after committing the act warned her against telling anyone or visiting a medical institution or doctor in connection with the matter. According to her, he bought food for her on Regent Street and later transported her to her home.
She said that he had called her for several days from a mobile number, which she provided as 699-0870. She further stated that Greene wrote the number at the back of his card and told her that only government officials had knowledge of that contact number. The woman said that several days after the incident, another senior police officer called her phone and requested that she meet a senior government functionary at the Office of the President to discuss the issue but she declined. She said the police officer told her that she should visit the government functionary alone, "with no family or anybody".
The allegations attracted calls by several groups for Greene to step down immediately so that a probe could be conducted.
On the advice of President Donald Ramotar, a team from Jamaica travelled to Guyana to assist with the investigation. After several days, during which the woman and Greene were interviewed they left.
Around the Web