Region One Chairman Paul Pierre installed an Interim Management Committee (IMC) comprising 13 members on Sunday, following the dissolution of the Port Kaituma, Arakaka, and Matthews Ridge (Matarkai) Neighbourhood Democratic Council (NDC).
The swearing-in ceremony was held at the Port Kaituma NDC after a Commission of Enquiry made this recommendation based on a request from residents from the three communities. According to a  Government Information Agency (GINA) press release, residents said the irregularity with which meetings were held and lack of accountability by the NDC are two of the reasons that informed their request for an IMC.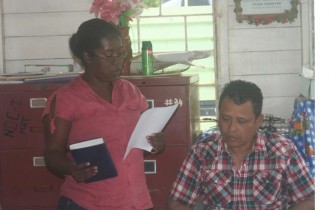 The enquiry was conducted and completed on March 15 and was submitted to the Ministry of Local Government and Regional Development. Minister of Local Government and Regional Development Ganga Persaud, Permanent Secretary Collin Croal and other regional officials attended the swearing-in ceremony. The members who comprise the IMC are Kishore Etwaroo, chairman; John James, vice-chairman and members Wesley Alberts, Norman Robinson, Jennifer Calistro, Celestine Joseph, Shondel St. Just, Esperio Hardoner, Emmanuel Henry, Ignatius Charles, Wayne Holder, Wilma Dass and Simone Benjamin.
Minister Persaud acknowledged the remaining members of the Matarkai NDC and noted that with the dissolution of the NDC there are now vacancies at the level of chair, vice-chair and councillors but not for overseer or other staff since those have not been affected. All assets and liabilities of the NDC are now owned by the ministry, Persaud said.
The minister said another discussion will be held to inform the new members of their roles within the IMC and for formal training. Persaud said a $3 million subvention is available and as such he advised the IMC to draft a plan showing how the money can be used to improve residents' lives. The meeting also discussed issues such as garbage collection and revenue collection and deposits.
Around the Web