As 27 new ranks recently graduated from the Richard Faikall Police College in Essequibo, Region Two, even as government continues to support the Guyana Police Force's review of its operations to decentralise its recruitment and training sessions.
In his address at the graduation ceremony on Tuesday, Minister of Home Affairs Clement Rohee said the step was taken to recruit more persons from outlying areas who may have been inhibited by costs or who might have preferred to stay close to home. This initiative has reduced the cost of training, provide better understanding of the peculiar circumstances of communities located away from the city and facilitate the use of regional training facilities for advance and refresher courses for police ranks, neighbourhood police, and members of the rural constabulary and Community Policing Groups, he said, according to a Government Information Agency (GINA) press release.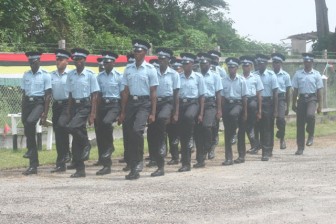 Rohee also noted there has been greater use of modern technologies that has resulted in better management of information and data collection which has helped the force to implement strategies that deter crime.
GINA said the new officers will be on probation for two years, after which they will be again enrolled in the College for final training and upon graduation they will be classed as police constables. This batch of graduates was schooled in areas such as Information Technology, Traffic Control and Policing. The course started in July.
Rohee urged them to observe the law in all their conduct and to try to forge ties with communities as residents' support and involvement are critical to preventing crime and apprehending offenders.
"You are the ones that will be interacting with ordinary citizens of our country. Negative and positive perceptions of the force could be drawn from those engagements, thus, your conduct will be under scrutiny by the public at all times… as part of your duty to enhance the relationship between the police and the public, you should at all times strive to create a good image of yourselves to the public either on or off duty," he said.
The minister also advised the ranks that their training has provided them with the appropriate skills needed to make split-second decisions while carrying out their duties, as every action they take has consequences. "One of the important reasons why you must be exposed to a high level of training is due to the fact that as constables patrolling the streets either by foot, bicycle or motor vehicles, you will be faced with situations where you have to make decisions within split seconds, without being able to make references to your supervisors in some instances," he explained.
Region Two Chairman Parmanand Persaud, acting Commissioner of Police Leroy Brumell and other senior officers also extended congratulations to the ranks.
According to GINA in 2001 Police Commissioner Laurie Lewis had dedicated the college to the memory of Sergeant 11117, Richard Faikall, who died in the line of duty in 1997. Government with support from the private sector rehabilitated the facility and was re-commissioned in September 2011.
Around the Web