Surinam's national carrier yesterday made its inaugural flight from Paramaribo to the Cheddi Jagan International Airport (CJIA), Timehri in transit to Miami, Florida with President Dési Bouterse among the passengers.
Welcoming the passengers and the Surinamese President was Guyana's President Donald Ramotar, acting Minister of Tourism Irfaan Ali and Minister of Transport Robeson Benn. A welcoming ceremony was held in the VIP lounge at the airport.
Chairperson of the welcoming ceremony, Carlton James said that the event was a special one and marked the return of Surinam Airways to Guyana.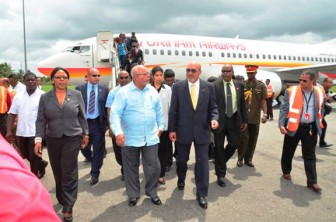 He added that the airline is here to serve the Guyanese public and is the national airline of Surinam and is based in Paramaribo. The airline currently offers flights from CJIA non-stop to Miami on Tuesdays and Saturdays.
James said, "The aircraft operates regional and long haul, including passenger service and inaugural flight, and the service in general is the outcome of painstaking, thorough and diligent work by officials from both countries".
He said, "This is just the latest of a number of collaborative ventures between these two neighbours."
President and CEO of Surinam Airways, Ewald Henshuijs said the airline is honoured to start its service to Guyana after a six-year absence.
He said, "To launch the service to Guyana with His Excellency Bouterse on the inaugural flight and to have President Ramotar welcome him is an honour and that stipulates the importance of this route and the friendship between the two nations."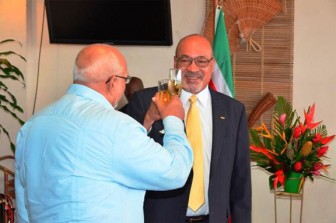 Henshuijs added: "When we stopped our service to Guyana six years ago no one thought that our operation to replace our twin engine aircraft with our beloved Boeing 737-300 would be an operation beyond the boundaries of Guyana to Miami."
He added that good neighbours listen to each other's needs and Surinam Airways is a customer driven company that would adhere to customer requests now and in the coming future.
He said that they are exploring the possibility of flying to Toronto, Canada. The Miami route will offer Guyanese an alternative to the current Caribbean Airlines flight.
Bouterse, who is embroiled in a raging controversy in Paramaribo over the proposed amendment of the Amnesty Act, said that after many years of absence, Surinam Airways has included Guyana in its list of destinations, making the inaugural flight an auspicious moment of special significance as it is another manifestation of the growing friendship and co-operation between the two countries.
He said that both countries have pledged to improve the connectivity of South America by air, sea and land, among other means, to facilitate the people-to-people contact as well as the movement of goods.
On that note he said, "Our two countries have made great progress in the field of land connectivity. For example through the implementation of the ferry service and currently we are weighing our options to construct a bridge across the Corentyne River."
Bouterse said with the inaugural flight they are demonstrating the results of actively pursuing integration and co-operation. He also said that fast and frequent airline connections between the two capitals are of great importance as it will enable accessibility to regional and other destinations.
Bouterse added: "Today April 3 marks the beginning of a new chapter for Surinam and Guyana in our growing friendship."
Transport Minister Benn said that the importance of the event is marked by the presence of the two Heads of States, and  he is excited that Surinam Airways has returned after being absent for six years so that they are able to ensure open and  competitive opportunities to bridge the air gap.
Benn added that Guyana is committed to the development of the aviation sector and made reference to the Ogle Airport being developed, and he also noted that they have spent over $1B to develop the tower and air navigation system at CJIA.
Benn said: "We are in the process of building a new airport terminal building which will extend the size of the building from its present 9,000 square meters to 14,000 square meters and an extension of the runways from 7,500 ft to 10,500 ft."
He said that there is an allocation in the 2012 National Budget of over $4.5B to facilitate these works which would see the continuing development of the air transport sector in Guyana, while  facilitating  airlines from other countries coming here.
President Ramotar said that the relationship with Guyana and Surinam is growing stronger and stronger as the days go by and only four days ago he was at a ceremony involving Guyana and Surinam where Surinam Insurance Company Assuria  launched its service here.
This, he said, shows very clearly that Guyana and Surinam are taking seriously their commitments towards their economies and integration in the Caribbean.
"This step of Surinam airways flying to Guyana to Miami is very important to us as it helps us to tap into our Diaspora for their initiatives and capital to come to our country and to make it easier for them to travel for development opportunities."
Surinam Minister of Transport, Industry and Communications Falisie Pinas said he was  honoured to be a part of the inaugural flight, and that Surinam and Guyana have a long history as  neighbouring countries being in constant contact, trade and co-operation between their people.
He added that Guyanese are the second largest group of people visiting Surinam with approximately 30,000 visiting in 2010 and some 33,000 last year.
He said that "Regional integration and tourism development are two important goals of Surinam and transportation can contribute very significantly in achieving those goals."
He added that this is the right moment to increase co-operation for the future since Surinam has a lot to offer.
Around the Web