"Palmer's analysis is flawed because he presents a comparison of the volume of purpleheart extracted and exported, with the volume of logs extracted per year; he really should be comparing the volume of purpleheart extracted with the annual allowable cut under sustainable management guidelines," Persaud said.

Palmer, in a letter to Stabroek News said that claims of sustainable management of Guyana's forests made by the Guyana Forestry Commission (GFC) and the Ministry of Natural Re-sources and the Environment are false even for one of the best-known timbers. Focus-ing on purpleheart and citing several studies, Palmer -a Senior Associate of the Forest Management Trust- said that clearly there has been a rise in selective over-cutting of purpleheart at least from 1996. He noted that there was concern even in 2002 by the GFC.
The selectivity of focus on purpleheart is even more striking in relation to the log exports, Palmer had said. He pointed out that purpleheart volume as a percentage of total log and chainsawn production rose from 2 in 1996 to 8 in 2006, the last year for which specific data was published.  Purpleheart volume as a percentage of total log export volumes rose from 8 in 1999 to 33 in 2010 and for the period January to September last year, stood at 20%.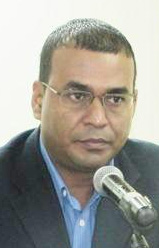 Citing several reports, Palmer said that purpleheart is widespread but not common.  "It is one of the species which grows in clumps or 'reefs', so the 'average' tree stocking is actually misleading.  Purpleheart reefs contain more trees than the average stocking but then there are wide areas with no purpleheart until the next reef, he said adding that thus purpleheart needs special protection against over-harvesting, which was provided by a rule to not fell trees within 10 m of each other, according to the GFC Code of Practice for Timber Harvesting (2002).
However, he noted that the GFA Consulting Group scoping study on independent forest monitoring noted in December 2011 that the GFC had relaxed informally this critical distance to 8 m, thus allowing more trees to be cut in a reef. "Given that purpleheart is a commercially desirable timber but a not-common tree, a citizen (and thus a stakeholder in the national forest estate) might reasonably expect conservative management by the GFC," he said but noted that this has not happened.
When contacted by Stabroek News, Persaud cited some figures. "The annual sustainable production should be about 1.6M cubic metres; however, concessionaires are only achieving about 500,000 cubic metres or about 31% of total production. It is only natural that they would want to maximize their profits by extracting the more valuable species; hence purpleheart represents about 8 % of actual annual production.
However, when compared to the total potential annual volume that can be harvested sustainably, it is seen that it was only 1.9 % for 2011, and at an average of 2.5% over the last 3 years. Exports are really 1.12 % of production for 2011, and an average of 1.57 % over the last 3 years," he said.
The minister said that the GFC is very aware of the need to reduce log exports, increase value added, reduce the pressure on the prime species, and increase utilization of the lesser used species. With this in mind, GFC/FPDMC/FTCI have been working with the sector on numerous initiatives to achieve the Code of Practice for Processing, training of communities/sector,  revision of the Code of Practice for Harvesting (will probably include a restriction on the extraction rate of prime selected species), preparation of a Code of Practice for SFP's, independent Forest Monitoring, the EU's Forest Law Enforcement, Gover-nance and Trade programme, promotion of Lesser Used Species (LUS),  and review of the Building Code, he said.
According to Persaud, it is not his intention to be distracted by the "special interest-driven misanalyses" of the forestry sector "by the Janette Bulkan/John Palmer enterprise during the past several years." He said that Palmer has "cunningly presented the analysis to show the distorted figures. He is now trying to attract the attention of the GFC and public because these stakeholders have refused to be hoodwinked by the misrepresentation of his partner Janette Bulkan; and have been dismissive of her."
He said: "I am quite sure there will be many ripostes in attempts to cover up his poor analysis but I would like to indicate that I have no interest in being ensnared in a publicity exercise to justify relevance and funding."
Around the Web