Two Guyanese were among the top achievers at the International Qaseeda Competition held last weekend at the Anna Catherina Islamic complex.
The winners are Faizul Bacchus of Guyana who won the male senior title, Nasreen Ali of Suriname who took the female senior title, Fareed Ali Hussain of Trinidad and Tobago who took the junior male title and Naseeba Nabbi of Guyana who took the junior female title, a  press release stated.
The other outstanding performers in the competition came from Guyana and Suriname.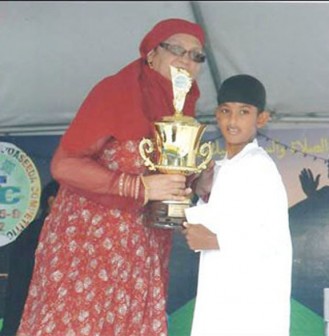 Those from Suriname included Abdoel Izhaak Yanki, Karieman Ghoamohee, Zeena Ali,  Fauzia Ali, Khalid Ghafoer and Mohamed Fariek Bholai.
The Guyanese achievers included Azad Bacchus, Ameer Baksh,  Muzammil Bacchus, Azad Bacchus, Aslam Bacchus, Wajih Mangat, Farida Nabi, Bibi Shakila Wahab, Asiefa Ali, Nazema Mohamed and Ameena Umar.
The  Qaseeda competition was hosted by the Muslim Youth League of Guyana, Guyana United Sadr Islamic Anjuman and the Anna Catherina Islamic Complex in association with the Guyana Telephone and Telegraph Company (GT&T).
The competition was attended by over 150 foreign delegates and invitees, with contestants and special invitees coming from as far as Bangladesh, Suriname, Trinidad and Tobago, Holland, Canada, India and the United States.
An international panel of judges comprising Dr. Abdullah Adil Ansari and Maulana Sayeed Tasdeek (India), Mohamed Mirzanur Rahman (Bangladesh), Ustad Nazim Bacchus  (USA) and Ajib Meerza (Guyana)  presided over the competition.
International recording artiste Geeta Bisram and popular singer from New York, Purnash Durgaprashad, as well as members of the Angels Caribbean Entertainment Group of New York were present at the event to keep those in attendance entertained.
The competition which is in its tenth year received the sponsorship of GT&T and was hosted for the third time in Guyana.
The release stated also that Chief Executive Officer of GT&T, Yog Mahadeo, expressed his company's pleasure in being able to partner with the Muslim community in the preservation of Muslim culture.
Several businesses including Banks DIH Limited, H Mohamed General Store, Sheriff Jewellery, M Ali and Sons Supermarket, Two Brothers Inc. and F&B Amin and Sons also supported the event.
The event will be hosted next year in Trinidad and Tobago by the Anjuman Sunnatul Jamaat Association.
Around the Web