The Guyana Relief Council (GRC) yesterday donated a quantity of household items to eight families whose homes were destroyed by fire earlier this year.
The items, which included food, clothing, building materials, trade tools, kitchen utensils, mattresses and toiletries, were handed over to the various families at the GRC headquarters in Ruimveldt.
The families that benefitted from the assistance are those of Oswald Fisher, of Fifth Avenue, Bartica; Tripurarie Persaud, of Huist T'Dieren, Essequibo; Ramnarine Ramdhenny, of Stanleytown, West Bank Demerara; Roxanne Douglas, of La Parfaite Harmonie, West Bank Demerara; Rajendra Badal, of Newtown Enmore; Luanna Semple and Lennox Forde, of William Street, Kitty; and Richard Aulder, of Public Road, Kitty.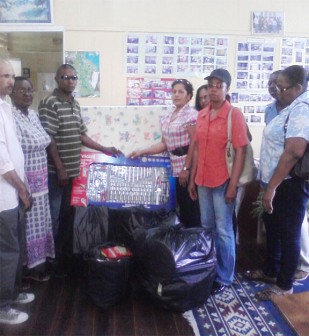 Douglas, whose house was destroyed by a fire on April 11 that also claimed the lives of two children, said she and her family are still trying to cope with the loss. When asked how much the assistance given by the GRC would mean to her and family, she replied, "I cannot explain, cause a little means a lot especially when you have nothing."
She related that she and her family are currently living in a small shop located in front of the burnt house during the course of the day and they sleep by neighbours at night. She said that they are surviving by God's grace along with the help of neighbours and strangers who have assisted the family.
Douglas, who looked very sad, said that a number of persons have reached out to them to assist in any way they can, but despite this she and her family are a far way from rebuilding what they had. She stated that they are hoping to cover the top of the bottom flat of what is left of the damaged house so that the family can be more comfortable.
Her brother, David who was with her, said that he cannot explain how much the donation meant to him. He appeared very happy as one of the items given to him included a tool kit.  David, who is a mechanic by profession, is currently unemployed because all of his tools were destroyed in the fire, but he hopes to begin working soon, since he now has some of the tools needed for his job.
However, Douglas lamented that some persons in the community have been exploiting the family's name to solicit funds for their own use and purpose without their permission.
Meanwhile, Ramnarine Ramdhenny, whose house was destroyed by fire in March, said that along with his wife and eight children he is now renting a house in the community. He stated that his son pays the rent for him, since he cannot afford to do so.
Recalling the effects of the fire which destroyed everything they had, the man said he now has to borrow a cutlass from his neighbour to go and cut cane so as to make ends meet.
Ramdhenny noted that since the fire, three of his children have not been attending school because they do not have the necessary things such as uniforms and bags. He stated that his children have been scattered since the incident and "you nah know how them a eat or live."
In the past few months, there have been a number of fires reported across the country, leaving many persons homeless and in some cases claiming lives.
GRC is a charitable non-governmental organisation that provides assistance to persons whose lives have been disrupted by disasters. The organisation is very dependent on the support of citizens and the business community.
Around the Web