Former security guards attached to the United Associates Security and Domestic Services (UAS&DS) on Friday protested for salaries owed to them for the last three months and insurance and tax contributions withheld by the company.
Almost two dozen former workers staged the protest outside the Fort Street, Kingston offices of the company and General Manager Astil Ogle yesterday said that arrangements are being made to have them pay them tonorrow.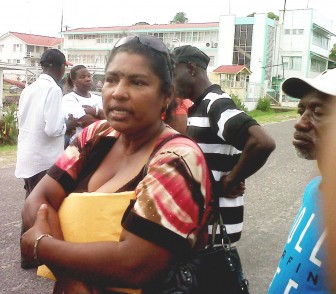 UAS&DS has for years faced a barrage of complaints by workers over non-payment and the withholding of workers' contributions to the National Insurance Scheme (NIS) and the Guyana Revenue Authority (GRA).
Ogle told Stabroek News that non-payment from clients, including government ministries, resulted in the company being in arrears for millions to the NIS and GRA. As a result, he said the company could not maintain its services.
The protestors, who were mostly senior citizens and women, said that they have been owed since February and that they were fed up with the promises made to them by UAS&DS' management.
Although the UAS&DS offices appeared to be closed on Friday, the former workers vented outside about being used and exploited by the company. Among them was Zareena Veira, who said that they were forced to work twelve-hour shifts with no benefits or allowances. Veira noted that she and many others worked every day of the week, including holidays.
Veira recalled one instance when she collapsed at a worksite due to low blood pressure. She explained that she contacted the company to have someone transport her to the hospital, but she got no assistance.
The woman said she was at the site for hours before managing to source a taxi to take her to the hospital.
Other protestors had similar stories and also noted that they were constantly made to accept payments, weeks after they were due to them. They noted that the company often blames the client for making late payments but their inquiries result in them being told that monies have already been transferred for them to be paid.
Ogle yesterday said that the company only received funds from the Human Services Ministry to pay workers on Friday, but the cheque had an error that needed to be rectified before it could be processed. He added that this information was later relayed to the former workers.
Ogle explained that the ministry agreed to pay for services rendered in February on Friday and promised to pay the remainder later this month or early next month.
He stated that he and the ministry's Permanent Secretary are working to ensure that the workers are paid tomorrow morning. He further said that other staff members have also not been paid, noting that the security guards were not being neglected.
In response to complaints about working hours at the service, Ogle said that the workers are contracted to work a twelve-hour shift and are provided with a meal and entitled to two weeks annual paid vacation leave.
Around the Web