President of the Women's Miners Organisation, Simona Broomes told Stabroek News that she was notified by one of the girls yesterday afternoon that the final two "escaped" on Saturday evening though one of the girls said that they had warned a supervisor and were told to leave.
More than a week ago, the four girls, ages 14, 15, 16 and 17, were rescued from the Oko Backdam in Region Seven where they were allegedly forced to work as prostitutes by a woman who operated a shop in the area.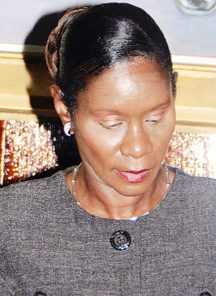 They were placed in the care of the Human Services Ministry. Stabroek News was told that the first teen escaped last Thursday, the second fled on Friday evening and the final two left together on Saturday.
Stabroek News managed to speak with one of the girls via telephone yesterday and she said that the environment in which they were placed was uncomfortable and stressful. She complained about their meals.  She said that she was desperate to gain employment to assist her family who she said is very poor.
The girls have all returned home but the teen with whom Stabroek News spoke said that they remain unhappy and wish to be under different circumstances.
However, she would not state clearly what these were. "We deh home but like we ain't even happy here… we want go somewhere far but we don't want go back to Mahaica at all," she said.
The teen explained that when the younger girls made their "escape" recently, they indicated to the supervisor that they would like to leave and were surprised when they were not stopped. "They say they get on bad and seh they want go home and the woman from Human Services tell them well go long nuh, nobody aint tie yall foot," she related.
Broomes said she is puzzled as to how each girl was able to "flee" the unit, especially since they did not do so all at once. She questioned the level of supervision there. "All of them didn't escape one time… why is it that they didn't pay keener attention to the others after the first one got away?  If anybody cared about these girls, how the other two got away? I am heartbroken and confused at this whole matter," Broomes told Stabroek News.
She appealed to women in this trade to not engage in such practices. "They need to stop taking these little girls and making them false promises to do these kinds of things," she said, pointing out that some girls were told they can earn as much as $80,000 weekly.
Meanwhile, an enraged Webster told this newspaper that although her Ministry is involved in a lot of work in communities such as the one the girls are from, a lot of these girls lack morals. "Some of the girls want to be involved in it. They want to get engaged in prostitution," she stated, adding that the society in general is a lawless one.
Around the Web