A taxi-driver was gunned down execution-style early yesterday morning near his home in Albouystown, and investigators and his family are so far baffled about the motive.
Renie Williams, 25, a driver for Satellite Taxi Service and an ex-policeman, sustained two gunshot wounds to his back moments after he arrived at his Lot 138 King Edward Street, Albouystown home.
From all indications, the crime was committed by a lone masked gunman who was waiting for some time for Williams. His wife, Shondeen Walters-Williams, was sitting alongside him in the passenger seat at the time.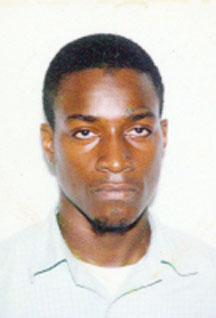 Police said the attack occurred around 1.30 am, as Williams was sitting in his car, bearing registration HB 9310, in front of his residence. A man approached and discharged several rounds at him, according to police, hitting Williams to his back. The assailant escaped while Williams was taken to the Georgetown Hospital, where he was pronounced dead on arrival.
Crime Chief Seelall Persaud said the motive for the shooting was unclear, while adding that investigators were still looking into the man's background in search of clues. He said the incident is being treated as an execution-style killing, since there were no attempts to rob the man or his wife, who was sitting in the passenger seat of the vehicle when the shooting occurred.
Persaud said investigators have been unable to gather much clues at the scene, since the area was dark. He noted that Walters-Williams, because of the bad lighting, could not ascertain if the shooter was male or female. He noted, however, that a 9 mm spent shell was recovered at the scene.
When Stabroek News visited the crime scene, there was broken glass. According to reports from persons in the area, it was suspected that the shooter lay in wait a short distance away, since a strange cap and cigarette butts were found near a passageway not far from the entrance to Williams' yard. There were also fresh footprints and the grass in that area was trampled.
'Bam! Bam!'
At the couple's home, relatives were comforting Walters-Williams. They had been married two years. Amidst tears, she recounted that to celebrate her birthday, she, her husband and some friends travelled to Linden on Sunday to partake in the Town Week celebrations there.
They returned to the city around midnight and after dropping off their friends at their respective destinations, they decided visit the seawall. Tears now streaming down her face, Walters-Williams said that they gaffed for about an hour before deciding to return home. She remembered them turning south into their street and Williams parked the car opposite the entrance to their home. The woman said he told her to collect her belongings from the vehicle.
"I turn around and been picking up the stuff and all I hear is 'Bam! Bam!'" she recalled, adding that the vehicle's rear windscreen shattered.  She said that when she looked up, she saw a shadow running north along the street in the direction of the cemetery.
She noticed that her hand was bleeding from a wound apparently caused by the broken glass and then she looked at her husband, whose body was shaking uncontrollably. "Like he went into shock, 'cause de whole car din shaking up," she added.
Walters-Williams said as she held her husband, he tried to speak but as he did so blood started gushing out of his chest. One of the bullets exited through his chest and the other through his arm.
The woman said she started hollering for help but after there was no response to her cries, she exited the car and ran along the street knocking on doors. It was a pregnant woman who eventually went to her assistance, while Williams' "friends" looked on from a distance. She said that she pleaded with them to drive the car and take the wounded Williams to the hospital but no one budged. A neighbour, after arriving at the scene, drove them to the hospital.
According to Walters-Williams, the wounded man was placed in a wheelchair as opposed to a stretcher at the hospital and the doctor took some time to attend to him. By the time this was done, Williams was already dead.
Williams was a father of two children from previous relationships, she said. He had left the Guyana Police Force in 2008 and had started working with Satellite Taxi Service about three months ago.
Asked about a motive for the attack, Walters-Williams said she was clueless, while noting that he had no known problems with anyone and had not related any misunderstandings he might have had to her.
"This leave we more astonished and baffled," she said, opining that his death may have been sparked by some occurrence during his days as a policeman. She said that they were together for three years and married for two. She described Williams as a "friendly, easy going" person. The widow pleaded with police to act swiftly to ensure that the shooter is caught so that she could get justice.
Two weeks ago another taxi driver was gunned down execution-style and police are yet to solve that case. Balram Jadoonauth, 24, who was attached to GR Taxi Service, was gunned down in front of his Dennis Street, Campbellville on April 15. Relatives suspect it was the result of a triangular affair and police had arrested the husband of the woman he was dating at the airport, but he was later released.
Around the Web