Eon Andrews, President of the United Minibus Association (UMA), has said that neither the Ministry of Commerce nor the Guyana Police Force has the authority to set fares that have been increased by private minibus operators.
About a week after operators began charging increases, Andrews yesterday announced that short drops will cost $80, although secondary school students will be required to pay $60 and primary school students $40.
Based on recent checks done by this newspaper, some operators in the city are charging $80 for short drops, while others are still charging $60.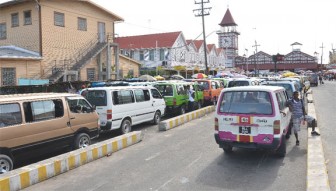 Andrews said that UMA represents minibus operators in 12 different zones, with over 1,500 members and it has a mandate to look after the best interest of members and by extension the travelling public. He said that if there are to be any governmental changes in the transportation sector, the UMA should be consulted before they are implemented. He was at the time referring to the recent release by the Ministry of Tourism, Industry and Commerce, which advised commuters against paying increases, in light of a pre-existing agreement between the ministry and operators that any future fare hike would be requested only when gasoline and diesel increase above one thousand dollars per gallon.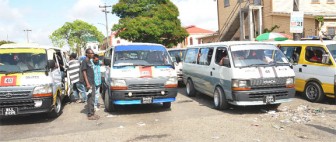 Efforts by Stabroek News yesterday to contact acting Minister of Tourism, Industry and Commerce Ali proved futile.
Andrews, however, argued that the agreement made between the operators and then Minister Manzoor Nadir in 2005 was not to control the fares but to address operational guidelines.  The executives and the members of the UMA have all agreed on increases, saying the travelling public will have to comply since the government has no authority whatsoever to determine their fares. The UMA, however, has suggested that if the government wants fares reduced, it would have to subsidise the cost for gasoline.
Route 48 Representative Wellings (only name given) said, "The Ministry of Commerce is releasing notices that no fares should raised and gas is over $1,000 at some stations. And after seven years, the fares will be increased by $20. We are entitled to that because there are no laws that state that we have to wait for [the] government and minister to raise our fares."
Andrews said that the UMA is willing to sit down and have discussions with acting Minister Irfaan Ali so that they can reach an agreement. He said that UMA members are as hard-working as any other working class Guyanese citizen and he defended the actions of some operators. "Good operators are pushed because of the 'hotplaters' [buses that overload] and the police are just there doing nothing, because that is where some of them pay lies," he said.
Andrews said that the present administration is not prepared to recognise the UMA although it is aimed at organising the transportation sector for the benefit of all stakeholders. As a result, he said it has approached the joint opposition for support.
He admitted that there are unmannerly operators but added that the association is prepared to have its members uniformed so that the public can distinguish them. "We know that there are rogue bus drivers and conductors, some may or may not be members of the organisation, but we are willing to do everything in our power to have this organisation have the recognition it deserves, because from all utterances what we recognised is that nobody seems to respect us," he said.
"We have prepared a proposition and submitted it to the joint opposition and the reason for this is because if you have talks with the government and they don't want to hear, we have to get someone else to hear us," he lamented.
Around the Web