The bloody body of miner Bryan Dickson was yesterday afternoon found in his bed at his East Street home, in Georgetown with numerous stab wounds suspected to have been inflicted with a pair of scissors.
Up to press time last night police were still trying to determine what happened to Dickson, 43, called 'Son son' and 'Peck' of Lot 353 East Street, who was also gagged by his killer(s). The man's home was also ransacked. Cash linked to a high-profile robbery was found there last year December.
Police said in a press release that around 12:30pm, Dickson was found in his rented apartment with his mouth gagged and there were suspected stab wounds about the body.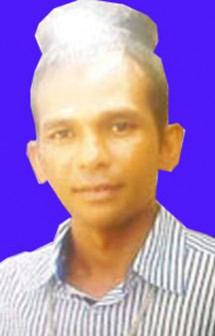 A pair of blood stained scissors were recovered at the scene, the release said. The man's body is at the Lyken's Funeral Home awaiting a post-mortem examination.
Crime Chief Seelall Persaud, when contacted, told Stabroek News that from all indications, Dickson knew his killer. "He was found on his bed… You don't allow strangers into your bedroom," he said, adding that the motive is, however, unclear at the moment.
Cash that was stolen during a $10M heist at Western Union on Church Street was found at Dickson's home last December but Persaud added that it is unclear if the murder might have been linked to that incident.
Dickson was among seven persons charged in connection with that incident. This newspaper has been reliably informed that the matter was discharged earlier this year, after the accused came together and repaid the stolen sum.
When Stabroek News arrived at the murder scene, located opposite the Georgetown Hospital, many shocked relatives and friends had gathered. Police were in the bottom flat apartment conducting investigations.
Persons living nearby said they heard no strange noises prior to the discovery of Dickson's body.
Because of the way Dickson's door is situated, it would be difficult for anyone particularly on the roadway to notice any suspicious activity.
A police official said that the bloody scissors were found on the bed and there was what appeared to be a red vest wrapped around Dickson's neck.
The official described the man's death as brutal, pointing out that he was stabbed multiple times with the scissors.
The mother of Dickson's two children, Sabrina Gobin, said that the man would stay at her home since their son was recently involved in an accident. He recalled that he left her house around 11 am on Wednesday to go home.
The last time anyone heard from him, she said, was when her mother spoke to him around 7 pm that day.
Gobin said that she became worried and started calling relatives to try to ascertain where he might be but all she was told was that he went to the hospital and had visited a sister. She said that she decided to call one of Dickson's nephews to find out if he had seen the man. Shortly after, the nephew visited the house and found the body. The door to the house was ajar at the time.
Gobin said Dickson did not have problems with anyone nor was he ever threatened by anyone. She said that he never expressed any fear of living on East Street and has been living alone since they separated.
She explained that Dickson had travelled out to Georgetown last November but because of an accident he was unable to return to the interior. She said he had just recovered and had made plans to return to work. He was supposed to have travelled sometime yesterday.
Asked if the man was in possession of any valuables that could have prompted the murder, she said, "That is what left me surprised. He don't have money, he don't have jewels nothing so I don't know the reason wha mek dey kill he."
Around the Web