Taxi driver Rajendra Puran, who was found with his hands and feet tied at Enmore, East Coast Demerara on Thursday, died as a result of strangulation and blunt trauma to the head.
Police yesterday said that this was the finding of government pathologist Dr Nehaul Singh, who conducted a post-mortem examination on the man's body yesterday.
Investigators are working on the theory that the man was hired and his `passenger/s' killed him and dumped his body before escaping with his Raum motor car.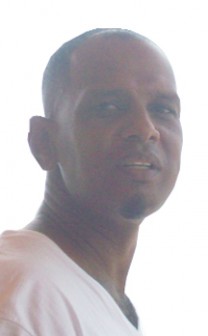 Up to press time last night the vehicle had not been found.
Puran left his Lot 1296 Section 'C' Block 'Y' Golden Grove, East Bank Demerara home around 9 pm on Wednesday for the Diamond car park, from where he usually operated his private car. No one knows what happened thereafter.
After he did not return home, worried relatives informed police and after several checks information was received that a body was found at Logwood Enmore. Checks confirmed their worst fears.
Puran had visible injuries to the head.
Meanwhile police are still investigating the murder of Bryan Dickson, who was found gagged and with countless stab wounds to his body in his East Street home. Police are still to find a motive for the attack.
After relatives were unable to contact him, a nephew visited the home and found the door ajar. One investigating further he found Dickson on his bed dead.
Police recovered a pair of scissors near the body which is believed to have been the murder weapon. No one in the area recalled hearing or seeing anything suspicious.
Around the Web