The 12-year-old child, who was struck down by a minibus along the Friendship, East Bank Demerara public road more than a week ago, remains comatose in a critical condition while the driver blamed for the accident has been released on station bail.
Mohamed 'Kevin' Ramnarine, of Lot 37 'C' Dam, Friendship, East Bank Demerara, was on May 1 flung some ten feet away after being hit by a Linden/Soesdyke bus that was at the time transporting passengers to Georgetown.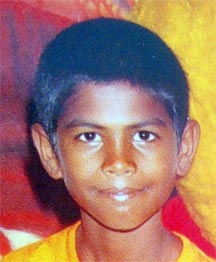 Doctors at the Georgetown Hospital have indicated to Ramnarine's family that the Craig Primary School student is very critical at the moment.
The boy's mother, Sally Ramnarine, yesterday told this newspaper that the boy remains in an unconscious state and that she is very concerned about her son's recovery.
"Nothing. Nothing is happening with him. He is the same way. He is moving one and two time but just his foot and hand sometimes. I see he move his tongue too but I just praying for the best because right now I don't like how he is looking at all," the woman said in the waiting room of the hospital.
She said that doctors have since indicated that the child suffered a shock to the brain, which has caused him to remain in a coma.
She noted that while the child was taken off the life support machine, he remains a patient of the Intensive Care Unit of the Georgetown Public Hospital where he is receiving oxygen and saline.
The driver of the bus, she added, was released on station bail after being held for 72-hours and she opined that police should have waited, considering the boy's condition.
Around the Web