Minister of Health Dr Bheri Ramsaran yesterday said that the deficiency in leadership of the Midwives Association of Guyana is intolerable.
He was at the time addressing over 150 midwives at the fourth annual Midwives Conference, which was held at the Regency Hotel on Hadfield Street.
A wave of murmurs washed over the conference yesterday after the feature address from Ramsaran, who affirmed that even though it was remarkable to see significant growth in the association, the deficit in headship was disgusting, and needed to be addressed.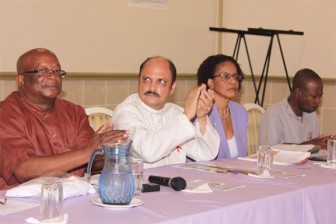 "I have been through the trenches. I know what you're going through but leadership has to be earned. I urge you not to turn yourself into a trade union. You're better than that," he implored, explaining that it is crucial for a high quality of midwifery to be practiced and that this was necessary to improvement of the association.
He stated that he and the Cabinet were alarmed that the ministry had not received any reports on maternal mortality rates since June this year. He said the ministry office should not be doing the work of the leaders of the association. He also mentioned that it was in the hands of the leaders and the midwives to ensure that their payrolls are up to date not him, recounting that several times he had to intervene to make sure that midwives were not being underpaid. "Ensuring the comfort of our midwives is significant," he said.
"We don't lack the resources we lack leadership," Ramsaran went on to say, stressing that it is imperative that midwives are knowledgeable about the legislation and take the responsibility for the development of the midwifery. He urged them to lead and take up responsibilities instead of treating their profession as mundane.
He recommended that continued medical education and analysis of delinquent cases be mandatory since this was the backbone for improvement. He prompted the midwives to "pull these cases and analyze them," because it would give them an idea where they are going wrong and what they should do to prevent maternal mortality.
A midwife should be a responsible professional who works along with other medical practitioners to reduce the rate of maternal mortality and ensure care for mother and newborns. "We want to see the association strengthen its resolve to improve quality care," said Frances Ganges, International Confederation of Midwives Board Member.
The conference was established to educate and encourage midwives in their profession to save lives. The theme of this year's conference is "Midwives Saving Women's Lives in Guyana." The Midwives Association is an organisation that collaborates with the Ministry of Health to improve the quality of maternal labour and reduce the rate of mortality among mothers and infants.
"No mother should die giving birth," Ganges stated. "And we are the ones who can prevent it."