(Trinidad Guardian) Financial projections for Trinidad and Tobago's agricultural sector reveal a potential gold mine for farmers and related industries. In fact, they stand to benefit from more than US$1 billion in regional market share. This revelation came from chairman of the Trinidad and Tobago Agri Business Asso-ciation (TTABA), Winston Borrell.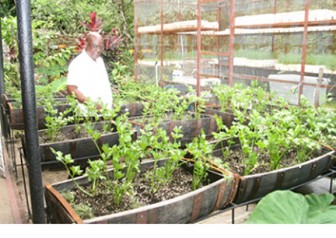 He said under the recently agreed Regional Food and Nutrition Security Strategy, food imports are to be reduced by at least 25 per cent, through appropriate public sector policies and private sector strategies outlined by the Government. Accord-ing to the profit forecast, this will assure the regional market of US$1 billion over the next five to ten years, a plan in which TTABA's model is seen as critical.
Borrell said T&T has actively sought to revive the agricultural sector, a plan which TTABA projected would see tremendous export potential of over US$100 million. He felt it necessary for the Ministry of Food, Land and Marine Affairs to look closely at two main objectives in the near future—reducing the food import bill and providing adequate amounts of locally produced alternatives, as well as increasing foodoutput for domestic consumption and export purposes.
He said, "It is important to look at other areas within the region which have been successful, transplant and adapt those ideas to suit the local needs." Borrell's crucial point of reference was Latin America, as he claimed that region is currently leading in agricultural export.
Lessons in food security
Prior to the 1989-90 collapse of Cuba's trade relations with the socialist bloc, its farming methods depended heavily on imported input. The loss of Cuba's privileged access to subsidised markets in Eastern Europe, followed by a drastic reduction in foreign exchange earning, largely due to the trade embargo sanctioned by the United States of America, forced the government to cut imports for agricultural production, said Borrell.
Cuba was faced with a critical situation of substituting domestic production for the inputs formerly imported. By the mid-1990s, the country was one of the world's leaders in the production and use of biopesticides, as they became self-sufficient. Cuba also became one of the first countries in the region to achieve food security.
Borrell hinted that there are valuable lessons to be learnt where food security is concerned, even in our situation of plenty. He maintains there is great potential for T&T to attain this level of self-sufficiency in food production, while promoting healthy lifestyles. Borrell said the new partnership between TTABA and the Government in achieving this initiative, can make Trinidad the regional leader in agricultural export while ensuring local food security.
The fundamental business of TTABA is primary agricultural production—agro-processing and food manufacturing. TTABA has been a marked prototype for the future of agro-processing in Trinidad, which effectively commenced in 2008. The Government has invested US$20 million through TTABA for research, product and institutional development. TTABA established two commercial pilot processing plants in which some 460 acres of land in central Trinidad was utilised. Also, with the test marketing of new products sales reached US$2 million in the domestic market in 2011, with a gross margin averaging 23 per cent.
Research based partnerships with the private sector has allowed TTABA to identify selected commodities of which value will be added, based on the item's potential to meet food security and export objectives.
In an effort to facilitate this, Borrell said associations have been established for the purpose of contract farming, to serve the needs of value added production on items such as cassava chips, pepper mash and paw-paw based barbecue sauce produced by TTABA.
In fact, over 30 new value-added products were developed from the new commodities, such as frozen staples, vegetables and meat, sauces, juices and baked goods. Sweet potato, cassava, pumpkin,  coconuts, paw-paw, selected herbs, vegetables and spices are on the raw materials list for TTABA's products.
Borrell was positive that the experiment has been successful, as calculated figures show an estimated profit of US$140 million from primary, secondary and tertiary output by TTABA. He said sweet potato, cassava and plantain fries have proven to be of tremendous domestic regional and export potential.
TTABA already supplies major fast food chains including KFC and the domestic market is valued at £6 million or US$6.5 million a year. Conversely, healthy staples such as frozen yams, dasheen, eddoes, cassava, sweet potato, plantains, green bananas and breadfruit were given similar projections, with the potential to earn US$100 million annually.
Borrell suggested these staples may be a viable alternative to rice, wheat and white potato, which are all imported. Selected vegetables such as sweet corn, spinach and bodi were estimated by TTABA's chairman to be over US$20 million. While processed products such as TTABA's pommecythere single strength (ss) juice, and coconut water were said to have a ready domestic market for at least 5 million litres, which is approximately 10 per cent of imported juice on the market, valued at US$20.5 million a year.
Borrell said the juices are in large supply, and he placed export potential at over US$100 million for both products. Other products such as paw-paw puree, also processed by TTABA, is set to replace tomato paste and barbecue sauce. TTABA has an existing order for over 3.5 million pounds per year valued at US$1.35 million a year.
TTABA's achievements have been exceptional since 2008; owever, the association now seeks US$55 million to establish a major food processing centre, access raw materials from other Caricom islands, and set up an agro-tourism project which will aid two regional food marketing and distribution centres in Miami and Holland.
Around the Web