Twenty-four-year-old Kumarie Kooseram always aimed to do her best but she would also tell you that the tragic loss of her father when she was just 13 moved her to want to make him proud even though he was no longer around.
So on November 10 when she received her certificate from the University of Guyana and was awarded the prize for the best graduating doctor it was a bitter-sweet moment both for her and her family because her father was not there to share the moment.
If he had been, according to her mother Phulmattie Kooseram, he would have thrown the younger of his two daughters the biggest of celebration parties.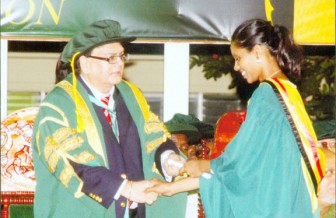 She told the Sunday Stabroek that the years leading up the day of graduation had seen many trials and tribulations but her daughter always did well and her dad would have been very proud of her.
"He would be the proudest… and I tell them if he was here he woulda keep a big party because he would be so happy," she said with a sad smile.
Harry Kooseram was not around to celebrate with his daughter because on April 15, 2002 he was brutally gunned down by a lone gunman as he rode from his 149 First Street, Bladen Hall, East Coast Demerara home to work. He was 37 years old at the time and was a Detective Sergeant of police attached to the Vigilance Police Station.
As he was on his cycle the police officer was approached by a man who pulled out a gun which was wrapped in paper and fired six shots at him. Two of the bullets hit him in the chest another three in his abdomen and one in his side. His assailant was never found.
Sitting in her yard and surrounded by her nieces and nephew (she would be quick to tell you that they are her favourite little people in the world) Kumarie does not want to dwell on that day which she said she remembers "vividly," but prefers to talk about being "pleasantly surprised"  when she graduated at the top of her class.
"I had a lot of competition but perseverance and dedication paid off," she said.
Kumarie has been blazing a trail of academic excellence from an early age and when she graduated from President's College in 2005 she placed second in the country at the CSEC examination, and in 2007 she was the country's top student at the GCE Advanced Level.
"But I have to keep things in perspective; I mean being doctor it doesn't matter how much awards you get and how you are on top… it is all about the medicine and the patient, how you practise," Kumarie told the Sunday Stabroek recently.
Now she has to decide where she wants to do her internship, whether at the Georgetown Public Hospital Corporation (GPH) or in another other Caribbean country such as Jamaica. She noted that since the medical school is accredited students can do their internship in any Caribbean country.
'Difficult moments'
Reflecting on her journey up to this point Kumarie, who is not too keen about speaking about herself, said that there were some "difficult moments."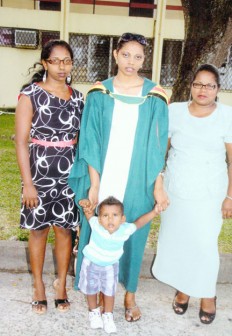 Many days she felt depressed and, "I thought of giving up but I kept things in perspective… And I set my goal and I worked towards it, I never lost track of it," she related, going on to  say that as she accepted her certificate and medal on graduation day she was just thankful to God and was happy that for now the long nights of studying were over.
The death of her father, she said, definitely pushed her onto the road of excellence and even at that young age part of her knew she had a responsibility to be the best she could be to help her family.
"When he died there was this part of me that knew I had to take responsibility; there wasn't anyone to provide for the family and I felt responsible for my mom, so prematurely a lot of responsibility was put on me and I guess that pushed me to work harder because I knew I had to do something," she said.
She still misses her father but she can talk about him without becoming emotional and as she put it, "You learn to live with it the best way you could."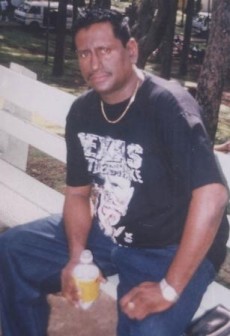 She remembers that fateful morning vividly as "It is a memory that you can't get rid of. I was home when we heard the shots and my mom ran out. I stayed with my sister; that was not a memory I would have wanted to have of him lying on the ground bleeding, so it is a good thing I didn't go."
She said when they heard the gunshots they knew right away something was wrong with their father. Kumarie did not say why the family knew it was her father who had been shot but it was a time when policemen were being targeted and neighbouring Buxton had became a haven for criminal elements following the jailbreak of five escapees.
But through it all she has remained a focused individual who loves to read, hence it is easy for her to study. More than once during the interview she spoke of her love for her nieces and nephew and said that most of her time is spent with them. That being said she does have a lot of friends and relatives, and she said she would not have been able to make it this far without their support.
She hopes to later read for a post-graduate degree in surgery, but first she has to work for two years. She is still unsure where she would pursue further studies but if she is granted a scholarship she would like to go to the University of the West Indies (UWI).
"But it would definitely be in surgery… every time I see the surgeons at the GPHC I am inspired because when they pull a bullet out of someone it reminds me of my father, and I want to do the same thing."
She has always been interested in the science subjects but it was after her father's tragic death that she subconsciously decided that she wanted to become a doctor.
And while her community must be proud of her Kumarie said they all expected her to do well and have gotten used to it right now."
Foundation
Kumarie describes her mother Phulmattie as her foundation, revealing that over the years she has been by her side and has kept her going.
And while Kumarie is modest about her achievements her mother is very proud but she would also tell you that she expected her daughter to excel since she has always been doing well.
"Some days are good and some are bad but we try and make out," was how Phulmattie described the years without her husband.
"We get help from a lot of well-wishers; thanks to those [who] would not want their names mentioned but they helped financially and with books and so much more," she said.
On Saturday during the graduation while sitting in the audience and watching her daughter receive her certificate, the woman said she could have burst with pride.
"It was such a good moment; it was very good I get up and [shout] and clap and we carry baby (her grandson Andy) and he was clapping too, we were all so proud," she said.
"She worked hard though; many nights she had to come home so late and we would sit under the house and look out just hoping that nothing happen to her. Sometimes it was as late as 11'o clock," she recalled.
Her daughter noted that many a night she found it very difficult to get transportation home and after she had waited for hours for a bus when she got home she had to be 'burning' the books.
And her mother said she was "so moody at times… it was not all glory, we had our moments,"  adding that at times she was forced to lock her door from her nieces and nephew.
She has had to sacrifice a few things (she is very shy about talking about a boyfriend) but her mother spoke for her and said she now has time for a "love life."
The woman said her daughter was always focused and she wants her to be used as an example that "you don't have to be rich to make it," and even though tragedy befell them she still persevered.
"I am single parent and we made it, but without well-wishers it would have been very difficult."
Comments

Several hundred more sugar workers are expected to be laid off from the Skeldon, Rose Hall, and East Demerara estates by next month and the Guyana Agricultural and General Workers Union (GAWU) yesterday urged that the decision be reviewed.

The commencement order establishing the Telecommunications Agency was signed last Friday, in anticipation of the liberalisation of the telecoms sector, Minister of Public Tele-communications Cathy Hughes announced yesterday.

Nickela Craig-Singh, the woman who was arrested last Friday after the Customs Anti-Narcotic Unit (CANU) found over 10 pounds of cocaine in the ceiling of her Soesdyke home, was yesterday sentenced to four years in prison and fined over $14 million after pleading guilty to possession of the drug.

Almost two weeks after he made a Facebook post in which he questioned whether the Indian High Commission was interfering in Guyana's internal affairs, Director of Public Information Imran Khan yesterday said that he regretted the "furore" his post created and admitted that it should have benefitted from "greater elegance or not have been made." After public reprimand and criticisms coming from even within the government, Khan, who initially staunchly maintained that he voiced his concerns in his private capacity as a citizen, said in a recent post on the issue that he now appreciates how persons may have interpreted his views as being some way reflective of the office he holds.
A young man seen in a recent viral video being brutally murdered in neighbouring Venezuela has been identified as a Port Kaituma miner.