KABUL (Reuters) – Afghan President Hamid Karzai appealed for calm yesterday after officials said six people were shot dead and dozens wounded in protests over the burning of copies of the Koran, Islam's holy book, at NATO's main base in the country.
The US embassy said its staff were in "lockdown" and travel had been suspended as thousands of people expressed fury over the burning, in protests that flared for a second day in several cities.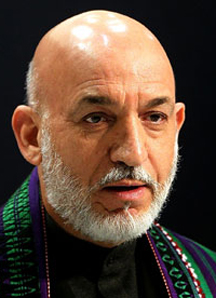 It was a public relations disaster for US-led NATO forces fighting Taliban militants ahead of the withdrawal of foreign combat troops by the end of 2014.
The U.S. government and the American commander of NATO-led forces in Afghanistan apologized after Afghan laborers found charred copies of the Koran while collecting rubbish at the sprawling Bagram Airbase, about an hour's drive north of Kabul.
The apologies failed to contain the anger. Afghans took to the streets again, chanting anti-American slogans and some raising white Taliban flags in the capital.
Karzai urged security forces to try to protect civilian lives and property.
"Protests are the right of people but I ask my countrymen to avoid violence," he said in a statement, urging people to wait for the outcome of investigations into the burnings.
Winning the hearts and minds of Afghans is critical to efforts to defeat the Taliban. Similar incidents in the past have caused deep divisions and resentment among Afghans toward the tens of thousands of foreign troops in their country.
Seven foreign UN workers were killed during protests that raged across Afghanistan for three days in April 2011 after a US pastor burned a Koran in Florida.
Around the Web