THE HAGUE,  (Reuters) – A United Nations-backed court convicted former Liberian president Charles Taylor of war crimes and crimes against humanity, the first time a head of state has been found guilty by an international tribunal since the Nazi trials at Nuremberg.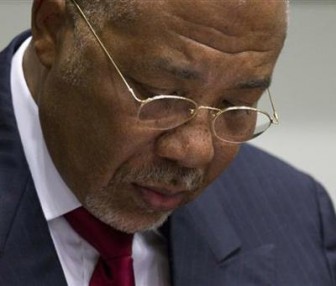 The first African leader to stand trial for war crimes, Taylor had been charged with 11 counts of murder, rape, conscripting child soldiers and sexual slavery during intertwined wars in Liberia and Sierra Leone, when more than 50,000 people were killed.
The warlord-turned-president was accused of directing Revolutionary United Front (RUF) rebels in a campaign of terror to plunder Sierra Leone's diamond mines for profit and to obtain weapons.
Yesterday, the court ruled that Taylor, 64, was criminally responsible for aiding and abetting the crimes, and found him guilty of providing weapons, food, medical supplies, fuel and equipment to forces in Sierra Leone which committed atrocities.
But it said he was not guilty of either ordering or planning the atrocities – a disappointment for the prosecution and a decision which could eventually result in a lighter sentence.
"The trial chamber, having already found the accused guilty of aiding and abetting, does not find the accused also instigated these crimes," Presiding Judge Richard Lussick said.
Wearing a dark blue suit and maroon tie, Taylor looked calm and subdued as the presiding judge took more than two hours to read out the charges, evidence and final ruling.
The litany of gruesome crimes covered rapes and enslavement, beheadings and disembowellings, amputations and other mutilations carried out by child soldiers notorious for being high on drugs and dressed in fright wigs.
"A civilian was killed in full public view and then his body was disembowelled and his intestines stretched across the road to make a checkpoint. Women and children were raped in public, people were burned alive in their homes," the judge said.
"The purpose of these atrocities was to instill terror in the civilian population."
And in return for providing arms and ammunition for the conflict, the judge recounted how Taylor had received "blood diamonds", as the stones from Sierra Leone's conflict zones were known, including a 45-carat diamond and two 25-carat diamonds.
The trial attracted international attention, not just because of Taylor himself but because supermodel Naomi Campbell was called as a witness by the prosecution in an attempt to show that Taylor was knowingly trading weapons for diamonds.
The prosecution said Taylor had sent uncut diamonds to Campbell's hotel room after a dinner given by Nelson Mandela, attended by both her and Taylor. She told the court she had no idea who had sent her the diamonds, which she called "dirty little pebbles".
POWERFUL
MESSAGE
Human rights groups and victims welcomed the court's decision, with some saying it would serve as a strong warning to other leaders responsible for atrocities in conflict zones.
"Taylor's conviction sends a powerful message that even those in the highest-level positions can be held to account for grave crimes," Elise Keppler, senior counsel for Human Rights Watch, said in a statement.
"Not since Nuremberg has an international or hybrid war crimes court issued a judgment against a current or former head of state. This is a victory for Sierra Leonean victims, and all those seeking justice when the worst abuses are committed."
Around the Web