INDIANAPOLIS,  (Reuters) – U.S. Senator Richard Lugar, a 35-year veteran of the Senate and leading foreign policy voice, was defeated in the Indiana Republican primary by a Tea Party-backed challenger today, the first Senate incumbent ousted in the 2012 election year.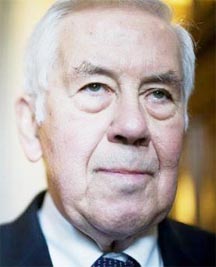 Lugar conceded defeat to challenger Indiana state Treasurer Richard Mourdock, who attacked the soft-spoken Senator for votes in support of Democratic President Barack Obama.
"My public service is not concluded," Lugar told supporters in Indianapolis. "I look forward to what can be achieved in the Senate in the next eight months despite a very difficult national election atmosphere."
The defeat of Lugar gives a boost to the Tea Party movement, which wants to force deep cuts in U.S. government spending and reduce the size of the federal government.
The outcome also gives Democrats an unexpected opportunity to win a Republican-held seat in November's elections. Democrats are clinging to a 53-47 advantage in the U.S. Senate but have many more incumbents standing for re-election than Republicans.
When Lugar, 80, last ran for re-election in 2006, he was seen as so invincible that Democrats did not field an opponent.
But the soft-spoken senator, who is the senior Republican on the Foreign Relations Committee, saw the atmosphere of Congress change dramatically in recent years to gridlock.
After the arrival of the conservative insurgent Tea Party movement on the U.S. political scene, Lugar's long track record of bipartisanship and foreign policy expertise were out of fashion.
Around the Web