WASHINGTON (Reuters) – The scandal involving former CIA Director David Petraeus widened yesterday as US defence officials said they were looking into "flirtatious" e-mails between General John Allen, the top US commander in Afghanistan, and a woman at the centre of the affair.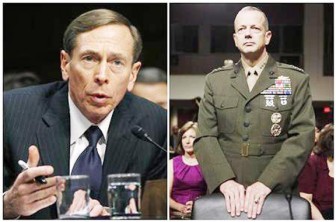 Defense Department officials said they were sifting through 30,000 pages of email and other communications between Allen and Jill Kelley, a Florida socialite whose complaints about harassing messages led to the discovery of Petraeus' affair with his biographer.
The revelation threatens to fell another of the US military's biggest names after Petraeus' surprise resignation last week. It also complicates President Barack Obama's efforts to wind down the war in Afghanistan and reorganise his national security team following his re-election.
A senior defence official told Reuters the emails between Allen and Kelley were seen as potentially inappropriate because they were "flirtatious" in nature, not because they dealt with sensitive information. Allen has denied that the two had a sexual relationship, officials said on condition of anonymity.
Defense Secretary Leon Panetta said Allen, a four-star Marine Corps general, would stay in his job for the time being, and the White House said Obama still had faith in Allen's ability to command US troops in Afghanistan.
But asked how Obama saw the unfolding scandal at a time when his priorities include impending "fiscal cliff," Press Secretary Jay Carney said: "I certainly wouldn't call it welcome."
Obama suspended plans to transfer Allen to Europe, where he was to be the top commander of US and allied forces in the region.
Both Allen and the official due to replace him in Afghanistan, Marine Corps General Joseph Dunford, must be confirmed by the US Senate before they can take their new posts in February.
Top lawmakers on the Senate Armed Services Committee said they would go ahead with a confirmation hearing for Dunford on Thursday. Allen's appearance was cancelled.
Allen had just submitted recommendations on what role the United States should play in Afghanistan after most American combat troops withdraw by the end of 2014.
The investigations raised questions about how top US officials in sensitive national security posts allowed themselves to become so personally involved with the women.
Kelley, 37, is a fixture in military circles in Tampa, Florida, where she was a volunteer social liaison at MacDill Air Force Base, home to the US Central Command. She and her husband, surgeon Scott Kelley, became friends with Petraeus when he was stationed there from 2008 to 2010.
Her complaints about harassing emails from the woman with whom Petraeus had an affair, Paula Broadwell, prompted an FBI investigation that ultimately disclosed Petraeus' involvement with Broadwell.
People close to Petraeus say he had no romantic relationship with Kelley, but Broadwell may have seen her as a rival.
Both Petraeus and Allen had recently intervened in a bitter custody battle on behalf of Kelley's twin sister. The men wrote letters in September to the District of Columbia Superior Court in support of the twin sister, Natalie Khawam, as she sought more visitation rights with her son, court papers showed.
Officials suggested they were concerned by the volume of communications between Allen and Kelley over the past two years, rather than the possibility that the two shared classified material or engaged in an extramarital affair.
"We are concerned about inappropriate communications. We are not going to speculate as to what is contained in these documents," one official said.
Details on content of the emails were not revealed.
The FBI referred the case to the Pentagon on Sunday and Panetta directed the Defense Department's Inspector General to handle the investigation. Panetta also informed lawmakers who oversee military affairs.
FBI agents searched the Charlotte, North Carolina, house of Broadwell late Monday in a sign that the case involving Petraeus was not fully closed.
Agents entered the house carrying boxes at around 9 pm (0200 GMT yesterday) and emerged four hours later, carrying away what appeared to be two computers and about 10 boxes.
Broadwell's family was not at home at the time.
US officials had said in recent days that their investigation was largely complete and that prosecutors had determined it was unlikely they would bring charges in that case, which started when Kelley contacted an FBI agent in Tampa about harassing emails from an anonymous source.
Comments

BARCELONA,  (Reuters) – Spain mounted a sweeping anti-terror operation yesterday after a suspected Islamist militant drove a van into crowds in Barcelona, killing 13 people before fleeing, in what police suspect was one of multiple planned attacks.

BRIDGEWATER, N.J./WASHINGTON,  (Reuters) – President Donald Trump yesteday decried the removal of monuments to the pro-slavery Civil War Confederacy, echoing white nationalists and drawing stinging rebukes from fellow Republicans in a controversy that has inflamed racial tensions.

(Reuters) – Venezuela will hunt down and jail leaders of violent protests that have rocked the country since April, its new top prosecutor said yesterday, a day before a hate crimes law was expected to be approved despite fears that it will be used to crush dissent.

JOHANNESBURG, (Reuters) – South African police have put a "red alert" on the country's borders to prevent any attempted flight by Zimbabwean first lady Grace Mugabe, who is accused of assaulting a model in a Johannesburg hotel with an electric cable.
WASHINGTON,  (Reuters) – The United States and Japan will step up their defense cooperation to deal with the threat from nuclear-armed North Korea as tensions in East Asia remain high, officials from the two allies said yesterday.