CAIRO,  (Reuters) – Egyptian police battled thousands of protesters outside President Mohamed Mursi's palace in Cairo yesterday, prompting the Islamist leader to leave the building, presidency sources said.
Officers fired teargas at up to 10,000 demonstrators angered by Mursi's drive to hold a referendum on a new constitution on Dec. 15. Some broke through police lines around his palace and protested next to the perimeter wall.
The crowds had gathered nearby in what organisers had dubbed "last warning" protests against Mursi, who infuriated opponents with a Nov. 22 decree that expanded his powers. "The people want the downfall of the regime," the demonstrators chanted. "The president left the palace," a presidential source, who declined to be named, told Reuters. A security source at the presidency also said the president had departed.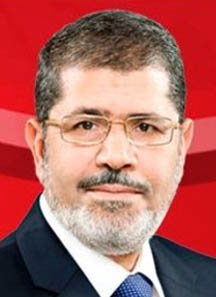 Mursi ignited a storm of unrest in his bid to prevent a judiciary still packed with appointees of ousted predecessor Hosni Mubarak from derailing a troubled political transition.
Facing the gravest crisis of his six-month-old tenure, the Islamist president has shown no sign of buckling under pressure. Riot police at the palace faced off against activists chanting "leave, leave" and holding Egyptian flags with "no to the constitution" written on them. Protesters had assembled near mosques in northern Cairo before marching towards the palace.
"Our marches are against tyranny and the void constitutional decree and we won't retract our position until our demands are met," said Hussein Abdel Ghany, a spokesman for an opposition coalition of liberal, leftist and other disparate factions.
Protesters later surrounded the palace, with some climbing on gates at the rear to look down into the gardens.
At one point, people clambered onto a police armoured vehicle and waved flags, while riot police huddled nearby.
The Health Ministry said 18 people had been injured in clashes next to the palace, according to the state news agency.
YEARNING FOR STABILITY
Despite the latest protests, there has been only a limited response to opposition calls for a mass campaign of civil disobedience in the Arab world's most populous country and cultural hub, where many people yearn for a return to stability.
A few hundred protesters gathered earlier near Mursi's house in a suburb east of Cairo, chanting slogans against his decree and against the Muslim Brotherhood, from which the president emerged to win a free election in June. Police closed the road to stop them from coming any closer, a security official said.
Opposition groups have accused Mursi of making a dictatorial power grab to push through a constitution drafted by an assembly dominated by his supporters, with a referendum planned for Dec. 15.
Comments

WASHINGTON/HAGERSTOWN, Md., (Reuters) – President Donald Trump yesterday fired his chief strategist Steve Bannon in the latest White House shake-up, removing a far-right architect of his 2016 election victory and a driving force behind his nationalist and anti-globalization agenda.
NEW DELHI,  (Reuters) – The Indian government has threatened Philip Morris International Inc with "punitive action" over the tobacco giant's alleged violation of the country's anti-smoking laws, according to a letter sent to the company by the federal health ministry.
BARCELONA, (Reuters) – The driver of the van that ploughed into crowds in Barcelona, killing 13 people, may still be alive and at large, Spanish police said yesterday, denying earlier media reports that he had been shot dead in a Catalan seaside resort.
JOHANNESBURG,  (Reuters) – South Africa has granted diplomatic immunity to Zimbabwe's first lady, Grace Mugabe, allowing her to return to Harare and avoid prosecution for the alleged assault of a 20-year-old model, a security source said yesterday.

BARCELONA,  (Reuters) – Spain mounted a sweeping anti-terror operation yesterday after a suspected Islamist militant drove a van into crowds in Barcelona, killing 13 people before fleeing, in what police suspect was one of multiple planned attacks.