BRIDGETOWN, Barbados, CMC – Thirteen wickets tumbled on a dramatic third day but Barbados were left scenting a win over arch-rivals Trinidad and Tobago in their Regional First Class Championship contest here yesterday.
Set a moderate 179 for victory, Barbados ended on 94 for three, still 85 runs adrift of recording their first win over T&T in six years.
Earlier, Barbados were dismissed for 279 in their first innings after resuming the day on 254 for seven, conceding a lead of 59 runs.
Mystery off-spinner Sunil Narine finished with five for 78 while seamer Reyad Emrit claimed two for 60.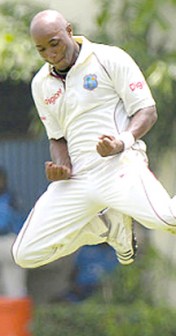 However, Barbados' pacemen then brought Kensington Oval to life, rattling T&T's batsmen and sending them sprawling for a meagre 119.
Trinidad and Tobago found themselves two batsmen short as neither Test opener Adrian Barath nor Lendl Simmons were available to bat because of injury.
Barath was forced to retire hurt on two at 12 for one after being struck on the hand by a quick delivery from speedster Tino Best while Simmons suffered a finger injury while wicket-keeping on Friday and had to undergo surgery.
Best was the leading wicket-taker with three for 31 while left-arm spinner Sulieman Benn claimed two for 38.
After Barbados' first innings lasted just half-hour into the morning and yielded just 25 runs, the hosts hit back strongly to sting the Trinidadians.
Opener Justin Guillen was back in the pavilion for just six, caught at slip by Surrey professional Chris Jordan off pacer Fidel Edwards with the score on nine in the fifth over of the innings.
Barath and left-handed stroke-maker Darren Bravo then endured a torrid time against Edwards and Best who produced an excellent display of attacking fast bowling.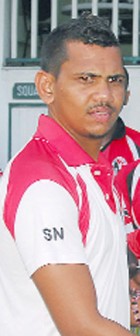 Both batsmen took blows to the body with Bravo felled by a bouncer from Edwards that struck him on the shoulder and forced him to seek attention.
Barath was forced out of action soon afterward with an injured finger and new batsman Jason Mohammed counter-attacked, upper-cutting Best for six as T&T rallied.
It was short-lived, however, as Mohammed was smartly taken at slip by substitute fielder Shamarh Brooks for 11 with the score on 36.
Bravo, who scored 28, and captain Denesh Ramdin (37) then put on 45 for the third wicket, seeing T&T to lunch at 38 for two before carrying on after the interval.
Once Bravo departed at 81 for three, the rot set in and T&T lost their last six wickets for 38 runs.
Only Sunil Narine with 16 reached double figures thereafter as Best bowled with fire to end the innings swiftly.
In search of a small but tricky target, Barbados stumbled out of the blocks when left-handed opener Omar Phillips was trapped lbw to pacer Atiba Allert for nine with the score on 16.
However, captain Kirk Edwards stroked a confident 45 and Test compatriot Kraigg Brathwaite, a patient unbeaten 26, as they added 68 for the second wicket to ensure Barbados took firm control of the game.
T&T struck two key blows late on to give themselves a glimmer of hope on today's final day when they claimed Edwards to a loose stroke to Emrit and lost Ryan Hinds for three to Narine.
Scoreboard
TRINIDAD & TOBAGO 1st innings 338
BARBADOS 1st innings
(overnight 254 for seven)
K Brathwaite c wkp Bravo b Emrit                  27
O Phillips c Mohammed b Allert                       0
*K Edwards c Guillen b Narine                       70
R Hinds c Khan b Narine                                    46
+J Carter c Guillen b Narine                            37
C Jordan lbw b Narine                                        12
S Benn c Mohammed b Gabriel                       13
K Roach lbw b Narine                                          6
T Best not out                                                           13
F Edwards b Emrit                                                17
S Dowrich absent out                                           0
Extras (b16, lb5, w4, nb3, pen. 10)              38
TOTAL (all out, 80.3 overs)                           279
Fall of wickets: 1-6, 2-82, 3-134, 4-169, 5-224, 6-228, 7-248, 8-259, 9-279.
Bowling: Gabriel 14-2-53-1, Allert 6-0-20-1, Narine 32-5-78-5, Khan 11-3-37-0, Emrit 17.3-6-60-2.
T&T 2nd Innings
A Barath ret. hurt                                                   2
J Guillen c Jordan b Edwards                             6
+DM Bravo c K Edwards b Benn                       28
J Mohammed c (sub) Brooks b Jordan          11
*D Ramdin c Hinds b Best                                    37
I Khan run out                                                           2
R Emrit lbw b Benn                                                   0
S Narine c Jordan b Best                                       16
A Allert b Best                                                           5
S Gabriel not out                                                    3
L Simmons absent out
Extras (b5, lb3, nb1)                                             9
TOTAL (all out, 39 overs)                              119
Fall of wickets: 1-9, 2-36, 3-81, 4-87, 5-88, 6-1-5, 7-112, 8-119.
Bowling: Edwards 5-3-6-1, Best 8-1-31-3, Jordan 6-1-23-1, Benn 14-5-38-2, Roach 6-1-13-1
BARBADOS 2nd innings (Target: 179)
K Brathwaite not out                                               26
O Phillips lbw b Allert                                            9
*K Edwards c Allert b Emrit                                 45
R Hinds c wkp Bravo b Narine                             3
K Roach not out                                                        0
Extras (b4, lb3, w1, nb3)                                        11
TOTAL (3 wkts, 33 overs)                                        94
Fall of wickets: 1-16, 2-84, 3-94.
Bowling: Gabriel 8-1-27-0, Allert 5-1-13-0, Narine 9-4-19-1, Emrit 8-1-17-1, Khan 2-1-11-0, Mohammed 1-1-0-0.
Position: Barbados require 85 more runs to win.
Toss: Barbados
Umpires: G Brathwaite, V Johnson.
Around the Web