KINGSTON, Jamaica, CMC – Luckless Leeward Islands plunged to another embarrassing defeat yesterday, going down to rampant defending champions Jamaica by an innings and 201 runs at Sabina Park.
The visitors, following on by 300 runs, could only last until an hour after lunch on the third day before being dismissed for a hugely disappointing 99, as their indifferent form in the Regional Four-Day Championship continued.
Starting the third day of the contest needing a miracle to avoid defeat after being dismissed for 104 on Friday, the Leewards got a fluent 55 from Test opener Kieran Powell but he was just one of two batsmen in double figures as the innings collapsed in a heap.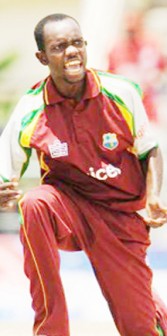 Overall, the left-handed Powell faced 124 balls and hit seven fours before ninth out with Leewards on the brink of defeat.
Left-arm spinner Nikita Miller snared five for 16 to finish with match figures of seven for 47 while leg-spinner Odean Brown claimed four for 32 to complete match figures of nine for 38. The loss was the third straight for the Leewards who were beaten by Guyana in the first round and also went down to Combined Campuses and Colleges last week.
For Jamaica, however, it was their third straight win and it solidified their status at the top of the standings on 36 points.
Leewards' collapse started when opener Javier Liburd (1) edged left-arm pacer Sheldon Cotterell to Simon Jackson at slip at 17 for one.
However, Powell played positively and was the brains behind a 39-run, second wicket stand with Montcin Hodge who got 15. The right-handed Hodge struck two fours off 56 balls and helped to raise the Leewards' 50 off 87 balls.
Once Hodge was trapped lbw by Miller on 56 for two, the Leewards lost five quick wickets for 17 runs to plunge to 73 for six. The end came swiftly with Miller getting Powell to hold out to long-on before having Nelson Bolan stumped.
SCOREBOARD
JAMAICA 1st Innings 404 for eight decl.
LEEWARDS 1st Innings 104
LEEWARDS 1st Innings (following on)
K Powell c Richardson b Miller                                            55
J Liburd c Jackson b Cotterell                                                1
M Hodge lbw b Miller                                                              15
*G Williams lbw b Brown                                                        0
+D Thomas b Brown                                                                 6
T Willett c Hyatt b Miller                                                         0
J Hamilton c Richardson b Brown                                       1
J Athanaze c Lambert b Miller                                             6
J Campbell lbw b Brown                                                          0
N Bolan st Baugh b Miller                                                        6
A Martin not out                                                                        0
Extras (lb7, w1, nb1)                                                                9
TOTAL (all out, 45.4 overs)                                                   99
Fall of wickets: 1-17, 2-56, 3-57, 4-69, 5-70, 6-73, 7-89, 8-89, 9-99, 10-99.
Bowling: Richardson 6-0-22-0, Cotterell 4-1-19-1, Bernard 4-2-3-0, Brown 17-4-32-4, Miller 14.4-6-16-5.
Result: Jamaica won by an innings and 201 runs.
Points: Jamaica 12, Leewards 0.
Toss: Jamaica
Umpires: N. Malcolm, J. Wilson
Around the Web