ST JOHN'S, Antigua, CMC – Not even a late cameo from vice-captain Anisa Mohammed could prevent West Indies from a narrow three-run defeat to India in their second Twenty20 International of their five-match series here Sunday.
Mohammed, better known for her off-spin but handy with the bat, stroked an unbeaten 20 from just 10 balls with one four and a six, but failed to get West Indies over the line as they finished on 92 for nine off their 20 overs.
With 16 required from the last four balls of the game, the right-handed Mohammed made a valiant effort but just came up short.  Earlier, India had gotten a top score of 27 from opener Mithali Raj as they struggled to a disappointing 95 for five after being sent in at the Sir Vivian Richards Cricket Stadium.  He added 38 for the first wicket with Amita Sharma (17) but once they were separated in the eighth over, the innings meandered.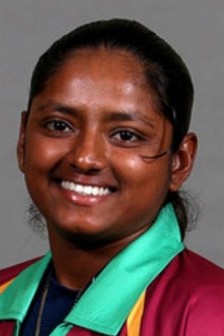 Thereafter, only captain Anjum Chopra with a cautious unbeaten 16 made any impact.  West Indies suffered an early setback when Shanel Daley fell without scoring in the third over and the innings plunged into chaos when the two leading run-scorers Stafanie Taylor and Deandra Dottin both fell without scoring in consecutive deliveries.
Tottering at 19 for three in the sixth over, West Indies were revived by a solid 28 off 30 balls from Stacy-Ann King but she found no support as wickets tumbled steadily around her.  Medium pacer Jhulan Goswami was the leading bowler with three wickets for seven runs while new ball partner Amita Sharma claimed two for 16.
The series is tied 1-1 with the third match of the series scheduled for Dominica tomorrow.
Scoreboard
INDIA
M Raj run out                                                      27
A Sharma b Taylor                                           17
+S Naik c Campbelle b Mohammed             1
*A Chopra not out                                           16
H Kaur c Munroe b King                                  1
V Krishnamurthy b Daley                            10
J Goswami not out                                            8
Extras (lb5, nb10)                                           15
TOTAL (5 wkts, 20 overs)                             95
Fall of wickets: 1-38, 2-41, 3-55, 4-59, 5-81.
Did not bat: E Bisht, M Kanojia, A Das, G Sultana
Bowling: Daley 3.5-0-17-1, Munroe 2.1-0-11-0, Ettienne 2-1-6-0, Mohammed 3-0-13-1, Taylor 4-0-21-1, Campbelle 3-0-13-0, King 2-0-9-1.
WEST INDIES
J Nero run out                                                            31
S Daley c Raj b Goswami                                         0
S Taylor run out                                                         0
D Dottin lbw b Bist                                                     0
S King b Goswami                                                    28
*+M Aguilleira c Krishnamurthy b Sharma    5
B Cooper b Goswami                                                 4
S Campbelle c Kanojia b Sharma                         3
A Mohammed not out                                           20
P Ettienne c Goswami b Sultana                        0
S Munroe not out                                                    0
Extras (w1)                                                                1
TOTAL (9 wkts, 20 overs)                                 92
Fall of wickets: 1-5, 2-19, 3-19, 4-40, 5-52, 6-69, 7-70, 8-77, 9-79.
Bowling: Goswami 4-1-7-3, Sharma 4-0-16-2, Bist 4-0-19-1, Das 4-0-18-0, Sultana 4-0-32-1.
Result: India won by three runs.
Series: Five-match series level 1-1.
Umpires: L Kelly, C Mack.
Around the Web