KINGSTON,  (Reuters) – Jamaican triple Olympic champion Usain Bolt will miss his second consecutive scheduled meeting of the season on Saturday so he can concentrate on training, his agent said.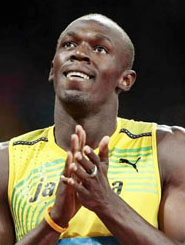 "Usain isn't racing this weekend – he is focused on training at the moment," Ricky Simms told Reuters via email yesterday.
He gave no indication when Bolt would launch what the Jamaican hopes will be a special Olympic season highlighted by the defence of his 100 and 200 metres titles at the London Games.
Both Simms and coach Glen Mills maintain the world record holder is not injured.
Bolt had said on his website last month he would run relays or 400 metres races on Feb. 11, 25 and March 17 to test his fitness.
He missed the first meeting for an off-island business trip to Europe that included a reported visit to his German doctor.
That absence prompted Mills to call off Bolt's racing at this weekend's Gibson Relays in Kingston, the sprinter's publicist Carole Beckford said.
"Due to Usain's unscheduled trip which resulted in his training disruption, the coach, Glen Mills, has decided that Usain will not take part in the Gibson Relays," she said in a statement
Around the Web