SHANGHAI,  (Reuters) – Chinese basketball icon Yao Ming has been taken aback by Jeremy Lin's rise at the New York Knicks and thinks his style and size could make China's state sports system rethink how it selects and grooms its athletes.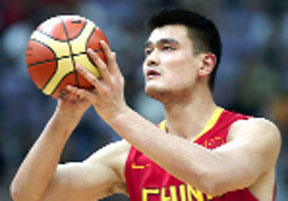 Yao, who opened up the world's most populous country to the NBA, retired from the game last year. In 2002, the seven foot, six inch (2.30m) former Houston Rockets center was the first international player to be top pick in the NBA draft and was an eight-times All Star.
Taiwanese-American Lin has taken the NBA by storm with a series of dynamic displays at point guard for the Knicks. His fast-paced, high-scoring, playmaking performances could hardly be more different from the towering Yao's plodding, robust style.
Shanghai-native Yao said Lin, who stands 1.91m, could change the way China selects and trains its basketball players.
"This is something else that Jeremy Lin has brought to us. It has given us something to reflect on, whether there are imperfections over the development and selection process for our basketball players over the past 10 or 20 years," he told Reuters in an interview.
The soft-spoken 23-year-old from Harvard went undrafted and was cut by Golden State and Houston before finding a place at the end of the Knicks bench in December.
Given his chance, Lin seized the NBA spotlight with both hands, and has inspired the Knicks with a string of stunning performances.
Yao said he had known Lin was a good player but was stunned that he was able to reproduce the sensational form night after night.
"I am very surprised but also very happy. When he played well in his first game I thought this was a great start and perhaps he would soon have more stable game time.
"But I never thought he would perform up to such levels as he had today."
Around the Web