LONDON, (Reuters) – Michael Schumacher can be a winner with Mercedes this season but ideally he would be alongside double world champion Sebastian Vettel at Red Bull, Formula One supremo Bernie Ecclestone said yesterday.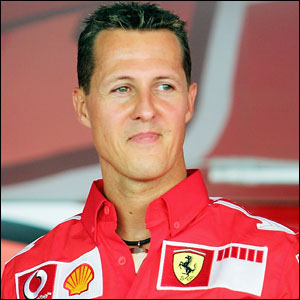 The 43-year-old seven-times world champion is starting the third season of his comeback still chasing his first podium finish since he retired as a Ferrari driver in 2006.
Vettel has won the last two championships, taking 11 victories last season and wrapping up the title with four races to spare.
Ecclestone said he did not want to see that domination again this year, when there will be an unprecedented six champions on the starting grid, and hoped Schumacher would come good.
"It would be nice, wouldn't it, if he did," he told reporters after announcing a new commercial partnership. "I'd like to see him in a good car. I'd like to see him in the second Red Bull. I don't think Sebastian would mind."
That would not please Mark Webber, Vettel's current team mate, but Ecclestone said he had nothing against the popular Australian.
"I'm just saying it would be nice to see him (Schumacher) in the car where you know that if he doesn't win, it's his fault and not the car's."
Asked whether he felt the older German – who has looked in fine form in pre-season testing – could still win, Ecclestone replied: "Yeah, sure."
The 81-year-old said the season would have 20 races as scheduled with no question mark over any of them.
Bahrain, a race cancelled last year due to unrest in the Gulf kingdom, was 100 percent certain, the new U.S. race at Austin, Texas, was "cracking away" on building a circuit and South Korea was all in order.
Around the Web