(Cricinfo)  Marlon Samuels may not want to lock eyes with Sachin Tendulkar when he arrives to play in his debut IPL season for the Pune Warriors. A proud man, Samuels had already given his word to Sourav Ganguly, the Warriors' mentor, when he called the Jamaican to see if he would be interested in playing for his team. Simultaneously, as Samuels was liaising with Ganguly, Mumbai Indians, which is led by Tendulkar, was also showing a strong interest.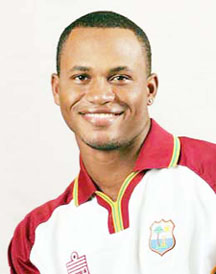 Mumbai told Samuels they were looking for a replacement for the Australian allrounder Andrew Symonds, who retired from all forms of the game. Samuels was caught in a tug of war: on one hand was Ganguly, who had been impressed by Samuels during West Indies tour of India late in 2011; then there was Mumbai, and Tendulkar, the Jamaican's all-time hero.
"Sachin is  definitely my hero but I already gave Ganguly my word," Samuels told ESPNcricinfo in Dhaka, where he is playing for the Duronto Rajshahi in the Bangladesh Premier League. "I know that Sachin will respect my decision," Samuels said with a smile. If he had approached me first, I would have definitely played with him.
"I was in negotiations with the Mumbai Indians. It didn't go as great as I wanted. Nevertheless, Sachin Tendulkar is the main man for me. I was definitely looking to play with him one day. The offer arrived, but it boils down to my hero, and if I am a man of my word."
A strong and agile athlete, Samuels is a hard-hitter and doubles up as a handy offspinner – all this make him a valuable commodity in Twenty20. Those facts were not lost on Ganguly, who had been keeping tabs on Samuels since West Indies' tour of Bangladesh in October 2012. Samuels made three half-centuries in four limited-overs outings on that tour, followed by three more across formats in India. By then Ganguly had one arm around Samuels' broad shoulders. Ganguly assured the Jamaican that he would be on his buying list if the impasse between the Warriors' owners Sahara and the BCCI were resolved.
Incidentally, when the Warriors opted to sit out of the February 4 auction, none of the eight other franchises bid for Samuels. "It was definitely a league (IPL) that I was looking forward to play in," Samuels says. "I never got picked up in the auction because most of the teams didn't know of my availability.
"His [Ganguly's] team pulled out of the auction. But we still kept in touch and he was telling me that they need to fix a few things and pick me up as soon as everything is fixed. So said, so done."
So as it stands, Samuels is the first player to be bought by the Warriors, after they signed a truce with the BCCI following their boycott of the auction.
Around the Web