By Emmerson Campbell
Barbadian Shawn 'The Sniper' Cox scored a sensational first round knockout of Guyana's former World Boxing Council (WBC) cruiserweight champion Wayne 'Big Truck' Braithwaite Saturday night at the Cliff Anderson Sports Hall  in the headline bout of the card dubbed the 'WBC Cup of Caribbean Champions.'
With the victory Cox, 37, won the vacant WBC Caribbean Boxing Federation (CABOFE) heavyweight title and will represent the Caribbean in that division at the lucrative WBC Cup 40-week tournament that will box off in May.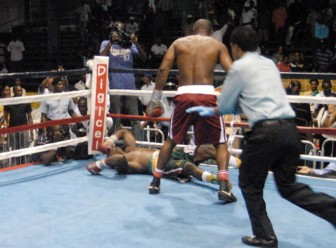 The first of three knockdowns occurred just 40 seconds into the bout and it brought the large crowd at the venue to its feet as the southpaw 'Sniper' landed a vicious left hook to the neck of 'Big Truck' sending Guyana's second world champion to the canvas.
The stunned Braithwaite got up and chided himself for being caught with the shot from the 'Sniper'.
However, 'Big Truck' was caught seconds later at point blank range by another left hand by the sharpshooter which landed to his temple.
The shot deflated the former champion, parking him on the canvas. After the devastating blow landed, referee Eion Jardine commenced his mandatory eight-count to the 'Big Truck' who was clearly rolling on punctured tyres. When Braithwaite finally made it to his feet, he was provided with some insurance and rest as he was asked repeatedly if he wanted to continue.
The Plaisance native tried to regain his composure by holding on to Cox but he was just target practice and the end was soon to come.
With 'The Sniper' sensing that 'Big Truck' was running on low fuel, he reloaded his 'hand gun' and landed a jaw breaking left hook which blasted Braithwaite into oblivion.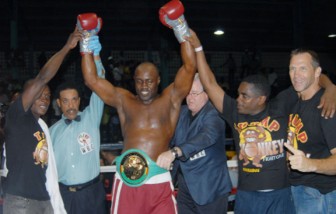 At one minutes, 55 seconds into the bout, referee Jardine was forced to put an end to the assault.
Pundits had predicted that the fight would come to a premature end as both fighters are renowned knockout specialists.
However, most of the patrons were left with dropped jaws as the end came much sooner than expected.
Cox, has improved his amazing record to 16 wins and one loss, 15 of his wins have come by knockout, all before the fourth round.
The 36-year-old Braithwaite's record drops to 24 wins and five losses.
In the post fight interview with Stabroek Sport, Cox said that he was insulted by Braithwaite's trash talk in pre-fight interviews and he wanted to make a statement.
"Braithwaite calling me garbage was one of the reasons  I wanted to hurt him early because I don't mind him calling me a girl and so on to promote the fight but don't call me garbage because I have worked my butt off to get where I am right now," said Cox.
The current WBC CABOFE cruiserweight and new WBC CABOFE heavyweight champion also intimated that his immediate plan was to win the WBC CUP tournament and then go on to win a World title either in the cruiserweight or heavyweight division.
When Stabroek Sport spoke to 'Big Truck', he apologized for letting his fans down but highlighted that he will fighting again soon and he also mentioned that he would like to have a rematch with Cox.
"You get hit in boxing and he was the better man tonight but I would love to have a rematch with him . This is not going to keep me down, knock outs happen, I will go back to the gym and return a better fighter, I did disappoint my fans and I am sorry but they will see me again," Braithwaite said.
Another fight that ended at one minute, 55 seconds of round one, was the bantamweight matchup between the reigning WBC CABOFE champ, US based Guyanese Elton 'Coolie Bully' Dharry and Barbadian Selwyn Lett.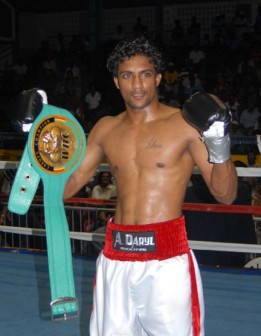 Dharry cornered Lett from the opening bell and sent him to the canvas on three occasions using an array of head and body shots to retain his title and keep his six-fight winning streak intact. Dharry's record now improves to eight wins and five losses, with three of his victories by knockout. Lett's record drops to two wins and three losses.
The main supporting bout of the card between Guyana's middleweight champion Edmond 'Wonder Boy' DeClou and Trinidad's Kevin Placide, came to a halt at 35 seconds of the ninth round.
Placide, who was exhausted after receiving rounds of pressure and punishment from DeClou, told the referee Jardine that he had had enough and walked to his corner, gifting DeClou the TKO victory as well as the vacant WBC CABOFE middleweight title that was up for grabs.
De Clou's record now reads 10 wins, one loss and one draw. Placide's record is now 12 wins, five losses and one draw.
Super lightweight Barbadian Miguel 'Hands of Stone' Antoine and flyweight Dexter 'The Kid' Marques won their respective bouts as well as the WBC CABOFE titles after they pounded out unanimous decisions over their respective opponents Revlon Lake and  journeyman Orlan 'Pocket Rocket' Rogers.
In the super lightweight contest, judges Francis Abraham and Clairmont DeSouza both scored the bout 118 to 110, while judge Lionel Sullivan had it 117 to 111. Antoine's unblemished record improves to 17 wins and one draw, with nine of his wins by the KO route.
Lake's abysmal record now read six wins, five losses and two draws. Three of his losses have come from the 'Hands of Stone'
Judges Rawle Aaron and Orin Hart scored the flyweight fight 116 to 111, while judge Andrew Thorne scored it 118 to 109. With the loss Rogers' record now reads five wins, 13 losses and four draws. Four of Rogers' losses are now to Marques. 'The Kid's' record improves to nine wins and two losses.
The card which was a true mix of local and Caribbean fighters will provide the winners with the opportunity to represent the Caribbean at the WBC Cup that boxes off in May.
Cox, Declou,Dharry, Antoine and  Marques have now joined WBC CABOFE welterweight Simeon 'Candy Man' Hardy as representatives of the Caribbean for the WBC Cup.
The WBC Cup is a 40-week tournament to celebrate the WBC's 50th anniversary. It will allow boxers in the tournament from all around the world to receive lucrative pay days as well as international exposure.
The winner of each division in the WBC Cup will walk away with US$250,000 (50 million Guyana dollars) and even from the very first round of elimination fighters as CABOFE champions, according to reports,  will earn as much as US$20,000 (four million Guyana dollars) to US$30,000 (six million Guyana dollars)  for the losers  and US$50,000 (10 million Guyana dollars) to US$70,000 (14 million Guyana dollars) for the winners, sums that are usually not readily available at the stages of most of the fighters career.
A television broadcast of the card will be shown on Friday night on National Communications Network (NCN) channel 11.
Around the Web