By Emmerson Campbell
In the aftermath  of  Wayne 'Big Truck' Braithwaite's devastating and humiliating defeat Saturday night at the Cliff Anderson Sports Hall at the hands of newly- crowned World Boxing Council (WBC) Caribbean Boxing Federation (CABOFE) heavyweight champion Barbadian Shawn 'The Sniper' Cox, one of his trainers Maurice 'Bizzy' Boyce gave Stabroek Sport an analysis of  the fight and about what went horribly wrong.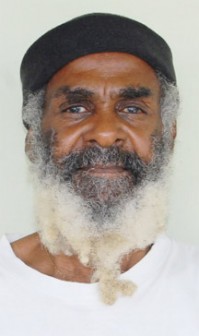 During the exclusive question and answer interview with Stabroek Sport yesterday, the legendary trainer, Boyce, also shared his opinion of Cox, other local WBC CABOFE champions and Saturday night's card, dubbed WBC Cup of Caribbean Champions that was staged by the Guyana Boxing Board of Control (GBBC).
Following is the interview:
SS: What caused the former world cruiserweight champion 'Big Truck' to lose in such a shocking and humiliating manner?
MB: "'Big Truck' carried the wrong attitude to the fight, that was not our plan, I saw Cox fight on three occasions and it was the same attacking method he carried, he always attacks and in order to defeat him and take him out of his comfort zone, our plan was to attack first, we had to be the aggressor with jabs and so on and being the better boxer 'Truck' would have been able to overcome the first few rounds and then change to something different."
SS:  Was Braithwaite properly prepared and ready for that fight since he had not fought in almost two years prior to Saturday night?
MB: "He looked sharp, he looked like he was in shape and ready to fight, and I spoke with his trainer in New York (Dillon Carew) and he said he was ok. I had him for just three days so my job was just to keep his breath open and some fine tuning because the basics were there so that is what I was working on, keeping his wind open and keeping him focused, the heavy work and so on you will have to talk to him (Braithwaite) about that, mentally he was in shape cause if you looked back at the conversations he was carrying on, he was mentally in shape."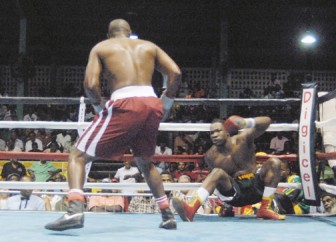 SS: Do you think that Braithwaite might have underestimated Cox?
MB: "He most definitely underestimated Cox, had he treated him with a little more respect he would have won the fight because he would have out-boxed him, but I must commend Cox and his corner, Sam Layne (Cox's trainer) did a good job of preparing him physically and mentally, Cox has a pair of good hands."
SS: What do you think would be best for the 36-year-old former world champion at this stage of his career in terms of hanging his gloves up?
MB: "I think when he gets back to America he will ask himself whether he needs to get back into the ring or call it quits, I cannot advise him on whether to continue or stop fighting, he of himself has to determine that but if he does return he has to listen to his corner and follow the pre-fight plan. It is a professional sport, you pay the corner for guidance and direction, a boxer don't just pay his corner to give him water or to put in and take out his mouth guard."
SS: What you think is his best fighting weight considering he wants a rematch with Cox at either the cruiserweight or heavyweight division?
MB: Cruiserweight is Truck's best weight to fight at when he is 200 pounds or less he is sharp and very powerful, I would like to see him at cruiserweight again.
SS: How you think Cox would do in the WBC Cup?
MB: "I think he has the potential to go very far in the tournament and even a world champion, like I said before he has power in both hands and also the heavyweight division is not that competitive as before so I definitely think he can do well, he could make a lot of money in the tournament but his lack of willing sparring partners in Barbados can pose a problem for his preparation – he may have to leave there for a while to prepare for the Cup."
SS: What is your opinion on the other WBC CABOFE title holders from Guyana who  will enter the WBC Cup, flyweight Dexter Marques, bantamweight Elton 'Coolie Bully' Dharry, welterweight Simeon 'Candy Man' Hardy and middleweight Edmond 'Wonder Boy' DeClou?
MB:  "I worked with Dharry before, he is a very good fighter and he will do good but I think he needs a bit more work. DeClou is a boxer  (Lennox) Cappell is doing a good job and I wish him the best, Hardy is a very good fighter I had some time with him in the park, he is good and has a very good work ethic his coach (Sebert) Blake has been doing well with him. Hardy is a powerful welterweight and he can box, we can say right now he is one of the best fighters, all of them can do very well in the tournament. Marques will have his work cut out with those Mexicans but these guys have to put their heads down and work because the WBC Cup is an opportunity of a lifetime."
SS: What are your thoughts on Saturday night's card?
MB: "Hats off to the boxing board, for years I have not seen the Sports Hall with so many boxing fans and I would encourage more promoters to come onboard and let us continue to revitalize boxing in Guyana. Hats off again to (Peter) Abdool and the boxing board for revitalizing the sport." Meanwhile, a  television broadcast of the card will be shown on Friday night on National Communications Network (NCN) channel 11.
The WBC Cup is a 40-week tournament to celebrate the WBC's 50th anniversary. It will allow boxers in the tournament from all around the world to receive lucrative pay days as well as international exposure.
The winner of each division in the WBC Cup will walk away with US$250,000 (50 million Guyana dollars) and even from the very first round of elimination fighters as CABOFE champions, according to reports,  will earn as much as US$20,000 (four million Guyana dollars) to US$30,000 (six million Guyana dollars)  for the losers  and US$50,000 (10 million Guyana dollars) to US$70,000 (14 million Guyana dollars) for the winners, sums that are usually not readily available at this stage of the career of most of the fighters.
Around the Web