By Emmerson Campbell
The national men's Sevens rugby team, fresh off being declared joint Bowl winners at the recently concluded Las Vegas Invitational Sevens tournament, held their first beep test (multi-stage aerobic fitness test) yesterday to gauge the fitness of their players who  will be representing Guyana at the HSBC Sevens World Series in Hong Kong from March 23 to 25.
The local ruggers earned a place at the HSBC Sevens World Series after they won their sixth consecutive North America Caribbean Rugby Association (NACRA) title last November in Barbados by demolishing the Cayman Islands by 29 points to nil.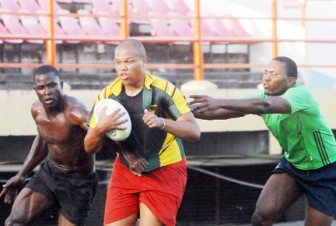 The team held its first beep test as well as a practice game at the Providence National Stadium and Stabroek Sport was given an exclusive interview by Captain Ryan Gonsalves, where he disclosed the team's current fitness as well some areas the ruggers will be working on leading up to the prestigious tournament.
"The fitness has improved a lot compared to the previous tests that we did before Las Vegas, most of the guys are over their scores that they did, some guys were in the 14s like me and (Rodwell) Hutson, but we will be working on improving our fitness before Hong Kong because we can get fitter, 13 and 14 is good but we can get fitter. We will be working along with Barrington Browne,  the fitness trainer. We do a lot of 150 and 200 metre runs with the sled and the parachute so that is basically endurance and speed work so we should be much fitter heading into Hong Kong," opined Gonsalves.
Team trainer Barrington Browne said that although some of the players could have recorded higher beep scores he was pleased with the overall fitness of the team, as most of them recorded higher scores than they did before the Las Vegas Invitational.
Gonsalves stressed that the team's defence is another area that the coaches and the players will be working on.
"We will also be working overtime on our defensive alignment before Hong Kong because we will want to cut down on the opposition's scoring because I know in Las Vegas we could have won more games if our defence was better so that is another area we will look to make improvements on," said Gonsalves.
The rugby captain also disclosed that the national team is scheduled to leave Guyana for San Diego, California on March 11 for a one-week camp before heading to Hong Kong.
"We are supposed to be leaving for San Diego on the 11th for one week to train with the USA national Sevens team at an Olympic training facility which will be good for both teams because we will get to compete against each other in high intensity practices before we go to Hong Kong on the 18th. The facility will also have a dieting monitoring programme, a gym, an ice bath and other world class facilities," said Gonsalves.
The Hong Kong tournament is very important to the Guyana side as it is one of the pathways to qualifying for the 2016 Olympics in Brazil. Hong Kong will also serve as a qualification tournament that can possibly make Guyana a core team.
Players on core teams become semi-professionals and are paid as semi-professionals. Core teams are also invited and accommodated free of cost at all of the HSBC tournaments.
The team is scheduled to hold another practice session also at the National Stadium tomorrow morning and the team will be named after this session.
The multi-stage fitness test, also known as the bleep test, beep test, or pacer test is used by sports coaches and trainers to estimate an athlete's VO2 max (maximum oxygen uptake). It is used by international sporting teams as an accurate test of cardiovascular fitness, one of the all-important "components of fitness".
The names of the players and their beep scores follow:
Avery Corbin (11/5), Elwyn Chase (11/10), Peabo Hamilton(12/5),Ryan Gonslaves(14/1), Valon Adams (13/10),Walter George (12/2),Theodore Henry (10/5), Blaize Bailey (13/1),Breon Walks (11/1),Rodwell Hutson (14/7),Claudius Butts (12/5), Rondell McArthur (7/10) and Cloyd Prowell (9/2).
Around the Web