Players from the Malteenoes Table Tennis Club stand a better chance at securing places on the national team for the upcoming Caribbean Championship, according to Coach Idi Lewis.
The former Caribbean Junior Boys singles champion recently returned from Trinidad and Tobago with the Malteenoes team which had reasonable success.
Lewis said the team's participation in the twin island republic was two fold.
"This serves a great purpose in terms of exposure and getting them match ready. Everything we do from this point on is in preparation for the Caribbean Championships."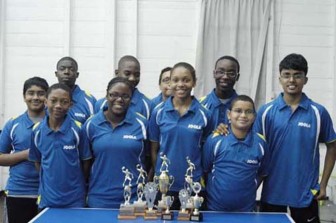 The Guyana table Tennis Association has already shortlisted squads for upcoming regional engagements in Cuba and the Dominican Republic and Lewis expects his charges to do well.
He said that once time and resources are available he would like to have the players participate in another international tournament.
He noted that even without the international participation he is confident his players would make the national team.
He said too that most of his players have played on the national team before. However, he expects some new faces from his club making the national team – Ryan `Smurf' Narine and Kevon Corbin.
These two players, he said, have shown that they deserve a spot on the national team.
Narine has created quite a few upsets beating higher ranked players in his fledgling career.
According to Lewis the club's participation in the recent Silver Bowl Junior Championship in Trinidad is what could give his players the edge.
At that tournament the 10-member team returned with nine medals; three gold, one silver and five bronze.
Lewis said that the tournament, which was a domestic one, was open to his players through his friendship with the Trinidad and Tobago Table Tennis Association.  "Their performances were very fabulous all around," he said.
Chelsea Edghil walked away with two gold medals in the girls' under-15 and over-15 while the up and coming Jamaali Homer secured the other gold.
Homer has come on by leaps and bounds in recent times.
A player with lots of potential, Homer recently won the U-13 girls singles title at the recent annual National Sports Commission Mashramani tournament.
Kyle Edghill, who has been playing with an injured hand, secured the lone silver in the boys' under-13. Copping bronze medals were Homer, Jeremy Singh, Rajiv Muneshwar and Shamar Britton.
Lewis said that the players from his club have been very successful over the years in the sport and that he credits to their dedication to training.
Lewis has had an outstanding career in the sport and seems to be ready to give back in a major way.
The senior national player, who represented Guyana at last year's Caribbean championships, did not play in the end of year National championships which hints that retirement might be on the cards.
He did play a major part in helping a number of players win titles at last year's national championships but has not yet said whether he will quit participating in the sport and go into coaching full time.
He did say, however that a number of his colleagues from time to time would assist with training which he said is also responsible for the results the team has been receiving over the years.
Meanwhile Lewis was able to land a sponsorship deal with table tennis equipment manufacturers giants Joola.
The deal will see the players benefiting from equipment from the table tennis Sportswear Company.
Around the Web