By Emmerson Campbell
Super bantamweight boxer Mandessa Moses will now face heavyweight Pauline London on Friday night in a six –round catch weight contest after her two previous opponents Venezuelan Anys Cedillo and Trinidadian Tianna Sosa became unavailable because of unforeseen circumstances.
The bout which will take place at the Cliff Anderson Sports Hall on the Guyana Boxing Board of Control (GBBC) 21st edition of the Guyana Fight Night Pro Am card will be the main supporting bout for the professional segment of the card.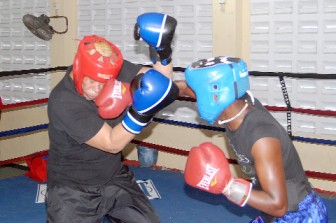 The eight–fight Pro Am card will be made up of four amateur and four professional bouts and will be headlined by World Boxing Council (WBC) Caribbean Boxing Federation (CABOFE) welterweight knockout specialist Simeon 'Candy Man' Hardy and Mark Austin in an eight-round non-title bout.
Stabroek Sport visited Moses and London at their training base yesterday and the duo disclosed their respective views for Friday night's encounter.
Said Moses: "In boxing you always have to be prepared for the unexpected," citing her change of opponents.
Moses added: "I'm ready for her, she (London) has her size advantage over me but I have fought boxers who were far heavier than me and I have been successful."
Moses, 21, who has a record of six wins and one loss last fight, was against Veronica Blackman who outweighed her by 65 pounds but still won.
The lanky Moses revealed that the fight will be an easy one for her since she possesses superior reach and speed over London.
"All I have to do to win the fight is to use my speed and my reach, just a lot of jabs and one –twos, I'm not concerned about her power, I've sparred with her before and this will be a very easy fight for me" said Moses.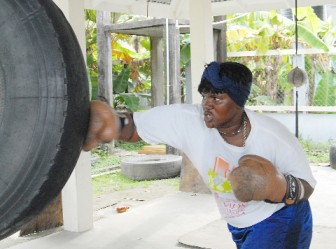 London, 35, who has a record of four wins and nine losses, had a split decision loss to Gwendolyn 'Stealth Bomber' O'Neil last October for the vacant Women's International Boxing Association (WIBA) heavyweight title.
However, she said she is confident of a victory despite receiving the fight on short notice.
London disclosed that she plans to use her weight and power punches to overwhelm Moses. She further disclosed that when she is finished defeating Moses, she wants a rematch with the 'Stealth Bomber'.
The professional segment of the card will also feature another WBC CABOFE champion, middleweight Edmond 'Wonder Boy' DeClou. DeClou will face Berbician pugilist Kelsie
The bout between DeClou, who is managed by Dog Pound Inc. and George, will be a six-round catch weight affair.
Also on the professional segment of the card will be a six-round rematch between featherweights Rudolph Fraser and Barbadian Gardel Roberts. Fraser won the first encounter last year February by a unanimous decision.
The amateur card will be headlined by middleweights Romeo Norville and Ron Smith while Norville's sister Ansilla Norville will come up against Keisha Arokium in a junior flyweight contest.
Brothers Richard and Joel Williamson of the Pocket Rocket Boxing gym in Berbice are also on the card.
Richard will have a rematch with fellow Ronald Wilson Memorial Games silver medalist Dellon Charles in their bantamweight bout while Joel will match gloves with Shawn Michael in the 105 to 109–pound division.
Richard defeated Charles in their first encounter two to one.
The monthly card is an initiative of the GBBC in collaboration with the Sports Ministry and the National Communications Network (NCN).
Admission is $1,000 while children will be asked to pay half price.  Bell time is 20:00 hrs.
Around the Web