By Emmerson Campbell
After staging a successful five-a-side Easter football  tournament last year, the Victoria Kings Football Club and Healthy Choice Promotions yesterday launched this year's 11-a-side Easter Cup Football Tournament at the Upscale Restaurant and Sports Bar.
The eight top East Coast teams, BV United, Golden Starz Football Club, Ann's Grove Football Club , Mahaica Determination, Plaisance Football Club, Buxton Starz  Football  Club and Victoria Kings A and B will tackle each other for bragging rights, the winner's trophy and the first prize of $100,000 when the tournament kicks off on Saturday at the Victoria Ground.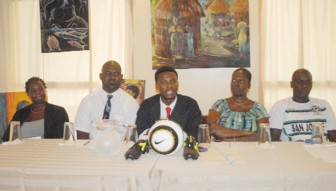 The first and second runners-up teams will receive $50,000 and a trophy and $15,000 and a trophy respectively.  Scholarships will also be awarded to the top four teams. Each of the top four teams will have a chance to select any student of their choice to attend the Institute of Business Education (IBE) from form one to five free of cost. The MVP of the competition will also receive a Diadora football shoe, compliments of Giftland Office Max. Giftland Office Max will also be providing official FIFA footballs for each game.
On the first day of action, BV United will face Victoria Kings B; Golden Starz will tackle Ann's Grove, while Victoria Kings A and Mahaica Determination will headline the triple header. Kick off time is 18:00 hrs.
On April 1 at 15:30hrs the two other teams, Buxton Starz and Plaisance FC, will take on each other. The semi-final games will be played on April 7 starting at 18:00hrs.
All matches including the final which is billed for Easter Monday (April 9) will be played on the Victoria Ground. Admission for each game except the final will be $300. Admission for the final will be $500.
During the launching, tournament coordinator Lynton Luke said the tournament is not only about football but it is a way to raise funds to offset medical expenses for ex-footballer and Director for Healthy Choice Promotions, Owen Mercurius who sustained a spinal injury during a game last year.
Luke also gave an overview of the tournament and thanked the tournament sponsors Giftland OfficeMax, Mackeson, IBE School, Blackman Jewelery, Healthy Choice Ital Bar, Lubritech, Keltech, the Kashif and Shanghai Organisation and the Ministry of Culture, Youth and Sport. The tournament coordinator also announced that tickets will be shared out to primary school students of Victoria and its environs.
Giftland OfficeMax marketing representative, Devon Browne, said his company was  always interested in the development of sport and education and was happy to be a sponsor of the tournament.  Also at the launching was President of BV Triumph Football Club, Bonita Frank, Treasurer of Buxton Starz  Football Club and Secretary for the East Demerara Football Association (EDFA) Sheron Abrams and Calvin Marks, Secretary of Victoria Kings.
Around the Web