By Emmerson Campbell
A 12-member team of male and female powerlifters left Guyana yesterday morning for St. Thomas, United States Virgin Islands (USVI) to regain the team title at the sixth annual North American Powerlifting Federation (NAPF) Caribbean Powerlifting Championships.
Although the team still required a further US$7,000 up to yesterday afternoon to offset food and accommodation expenses, the lifters were upbeat about their individual and team goals and are focused on regaining the team championship that they surrendered to Trinidad and Tobago last year.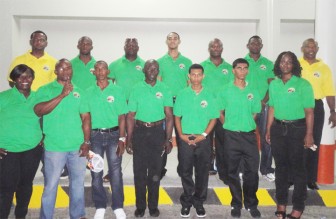 The local strongmen and women will face tough opposition from lifters from 10 other countries around the region when the two-day tournament commences tomorrow at the Windward/Pegasus Hotel. However, three-time 83kg men's Caribbean Championships Powerlifting Gold Medalist Randolph 'The Accomplisher' Morgan and Commonwealth record holder and female Sports Personality of the Year Dawn Barker have resolved to be outright winners.
Morgan in a previous Stabroek Sport interview said: "I'm looking to attempt the World record in the deadlift, that's like 761 pounds, in the bench press I'm looking to press upwards of 520 pounds, I never squatted over 700 pounds yet, but I'm sharpening my mind to squat over 705 pounds over there – I'm hoping for that."
'The Accomplisher' said he is confident of claiming his fourth consecutive Caribbean Championships title because he has  been  putting in the necessary work  to elevate his lifting poundage and is confident of retaining his title.
Barker who established new records in July last year at the NAPF Championships in Miami, Florida after she performed a squat of 237.5kg (522 pounds) and a deadlift of 192.5kg (423.5 pounds) also has plans of eclipsing those record in the USVI.
Barker said: "I'm confident in myself although I'm a bit nervous, but I'm aiming to squat 550 pounds, bench press 250 pounds and deadlift 450 pounds."
Stabroek Sport caught up with the confident Guyana Amateur Powerlifting Federation (GAPF) president Peter Green yesterday and he revealed his expectations.
"I expect them to bring back golds, I'm anticipating a medal haul that will make it look ridiculously easy for the uneducated eye, the team championship and the best lifter award for the men's Open, the junior award, I expect Vijay Rahim to grab that," said Green in the exclusive interview.
Green added: "I expect Dawn and Morgan to do big things and the Master's overall Winston Stoby I expect him to break records because he has been on par for that for the last year."
Green also thanked the corporate sponsors who made the trip possible and the government for bearing the cost of the outstanding US$7,000 yesterday afternoon.
Along with Barker and Morgan, the contingent is made up of  53kg national sub-junior champion Gumendra Shewdas; his brother 59kg sub-junior champion Suraj Shewdas; 2010 59kg Caribbean junior champion Rahim; 2010 CAC 74kg champion Stoby;  2010 Caribbean junior champion Anis Ade-Thomas; national open runner-up in the 83kg division Germaine Snagg; 2011 105kg Caribbean champion Karel Mars; last year's 120kg national open champion Colin Chesney; and national lifter in the 84kg division Kimberley Mars-Loncke.
Coaching duties will be done by Gordon Spencer while the team will be managed by Denroy Livan.
Around the Web