By Iva Wharton
The Guyana Telephone and Telegraph Company yesterday presented a cheque for $1 million to the tennis association.
The cheque, according President of the Guyana Lawn Tennis Association (GTA), Christopher Ram will go towards financing the rehabilitation of three courts.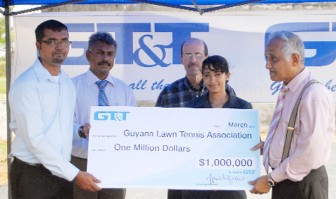 "The project has been in the pipeline for over five years, discussions have been taking place with the National Parks Commission and it was only last year that we signed a Memorandum of Understanding with the Guyana Telephone and Company and the National Parks Commission".
The facilities he said will be managed jointly by all parties involved, "it is also the home base of the park players, it's really the cradle of tennis in Guyana. Here is where many of our top junior players matured and have started their players".
The partnership with the phone giant is not one off but in fact a long term relationship. According to the vision is not just to have the facility being used locally but also a venue for international tennis.
Chief Financial Controller Royston Rachpaul said that the company was pleased to be associated with the sport.
Rachpaul said that he was not a tennis player but an avid lover of the sport and it is his dream to see Guyana and Guyanese players gain international recognition.