Shomari Wiltshire secured his second upset victory of the Kool-Aid Junior Easter squash tournament on day three of the competition at the Georgetown Club Courts last Thursday.
According to a press release, Wiltshire, who quickly became the talk of the tournament when he defeated an opponent seven years his senior, secured his second upset win of the tournament by downing experienced campaigner Matthew Phang.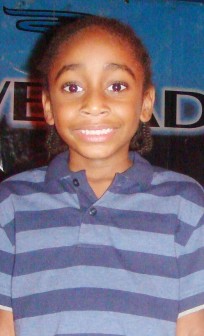 The eight-year-old son of former national player Garfield Wiltshire, recovered from a close defeat in the first game [10/12], to win the next three games at 11/4, 11/8, 11/8.
Wiltshire is now the only undefeated player remaining in category 'D' in the skill level tournament which was sponsored by Toucan Industries.
Ten-year-old Maya Collins kept on rolling with her third straight win against Anthony Islam, the twin brother of Daniel who Collins had defeated in straight games on the opening night in Category 'F'.
Collins survived a scare as the nine-year-old Anthony brought his 'A' game stealing the first game at 12/10.
However, Collins who never lost a game returned with determination to win a close second game at 11/8. The win swung the match into Collins' favour as the momentum saw Collins winning the third set 11/7 for the victory.
Meanwhile, Steven Xavier opted to play all three of his matches on the same day and finished with a 1-2 record. Xavier was forced to play all five games to beat Ashley deGroot before Caribbean under-15 champion Nyron Joseph pushed him to his breaking point. After losing 2-3 to Joseph, Xavier put up less resistance to Jason Ray Khalil who easily disposed of him in straight games [11/4, 11/4, 11/9].
The tournament continues today before the final day of matches tomorrow which will be followed by the presentation of prizes during the closing ceremony.
The Kool-Aid Junior Easter tournament is the second tournament of the year held by the Guyana Squash Association (GSA) in collaboration with its number one corporate sponsor Digicel Guyana, and has attracted 29 competitors.
Following the tournament, the GSA is expected to shortlist a squad of juniors to begin training for the Caribbean Junior Squash Championships.
Thursday's results
Category A
Jason Ray Khalil defeated Steven Xavier 11/4, 11/4, 11/9
Steven Xavier defeated Ashley deGroot 11/5, 7/11, 11/7,
6/11, 11/8
Nyron Joseph defeated Steven Xavier 11/3, 8/11, 8/11, 11/7,
11/8
Category D
Shomari Wiltshire defeated Matthew Phang 10/12, 11/4,
11/8, 11/8
Category E
Lydia Alphonso defeated Savannah Mendes 11/4, 10/12,
11/2, 11/2
Justin Gomes defeated Alexandra Phang 11/7, 11/4, 8/11,
5/1, 11/9
Category F
John Phang defeated Makeda Harding 11/2, 11/3
Maya Collins defeated Anthony Islam 10/12, 11/8, 11/7
Lucas Jonas defeated Sarah Lewis 11/6, 3/11, 11/6
Daniel Islam defeated Zachary Persaud 11/8, 11/3
Around the Web