Guyanese powerlifters broke records and had a massive medal haul at the two-day Caribbean Power lifting Championships over the weekend in St Thomas, USVI on Friday.
Dawn Barker copped a gold medal in the 84 plus kg class after she broke her own Caribbean record set last year in the squat 240kgs (old 227.5kgs) and deadlift 195kgs (old 182.5kg). Her winning total was 550kgs (old 540kg)
Three-time Caribbean men's 83kg champion Randolph 'The Accomplisher' Morgan, made it four in a row after he recorded a new benchpress record of 220kgs (old 215kg), deadlift 320kg (old 295kg) and total 835kg (old 807,5kg)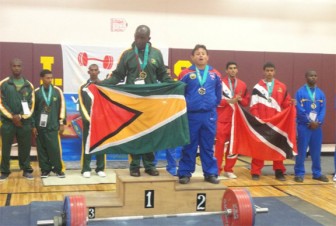 And, 74kg Men's Masters M2 gold medalist Winston Stoby equalled the record for the squat 242.5kg, bench press 137.5kg, and broke the deadlift record 265.5kg (world record) and total 645.5kg
Stoby is the first Guyanese and Caribbean lifter to hold any world records in any category to date.
In the men's Juniors (Group A) 59kg gold medalist Vijai Rahim set new Caribbean records in the squat 192.5kg (old 182.0), deadlift 225kg (old 210kg) and total 507.5kg (old 490kg)
In the men's Junior (Group B) 83kg  gold medalist Anis Thomas broke his own 2010 records in the squat 252.5kg (old 242.5kg), deadlift 292.5kg (old 275kg) and total 665kg (old 630kg).
In other results, Gumendra Shewdas placed first in his 53kg sub junior category, Paul Adams placed second in the 74 kg Open Male category to Stoby while Kimberly Mars-Loncke took the silver in the women's open under 84kg.
Around the Web