By Emmerson Campbell
Donnel Perry and Eybo Orford posed and flexed their chiseled physiques to capture this year's overall Novices and Intermediate titles respectively when the Guyana Amateur Body Building Fitness Federation (GABBF) opened its season Saturday night at the Theatre Guild.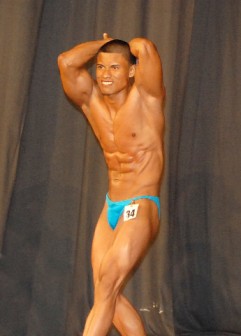 Perry dazzled the capacity crowd which was mostly made up of females when he displayed his rippling abdominals, well defined quadriceps and sculpted arms in his free posing routine and compulsory poses.
In the pose down Perry defeated Under-21 Junior Novice Winner Akeem Innis.
The crowd favourite from Buddy's Gym, Perry also won the bantamweight division (under 143 pounds) by edging out Orford and Muslemania Gym's Yogesh Nirmal in the pose down of the bantamweights.
Orford was the lone competitor for the overall Intermediate competition after Perry dropped out of the event. Nevertheless, the Total Fitness Gym product was applauded for posing and flexing his ripped, chiseled body like if his life depended on it.
Another crowd favourite, Interline's Richard Bynoe, posed his way to lifting the welterweight (155 to 165 pounds) winner's trophy ahead of Total Fitness' William Ward and Power House's Paul Kelunde. Bynoe also won the welterweight Intermediate title.
Akeem Innis from Total Fitness, flexed his way to win the Juniors U-21 trophy, defeating Nirmal and gym mate Colin Sertimer.
Interline's Nadina Taharally displayed a well-toned body as she bested her gymmate Sharon Lee to take home the Ms. Physique first place trophy.
Lee, however, was the lone competitor for the Ms. Body Fitness and took that winner's trophy home.
In the battle of the lightweights (144 to 154), Total Fitness' Markwell Braithwaite bested Quincy Forde and Ronald Livingstone. Forde and Livingstone are gymmates from Interline Fitness Gym.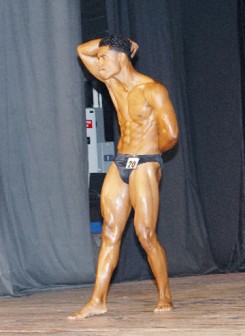 In the light middleweight division, Sherlon Hodge from Total Fitness, placed first while BodyMaxx's Tremel King and Hodge's gymmate Michael De Santos were second and third respectively.
Al Downing took home the heavyweight (177 pounds and over) and the Master's (Over 40 years) titles while Terrence Morris from GDF was also in winners' row as he flexed his way to the Lightweight Intermediate title.
Mark 'Uno' Perry, the men's overall winner of the inaugural Hugh Ross Classic in 2008 was a guest poser at the event.
A record number of 40 bodybuilders in total from 16 gyms drawn from Linden, Georgetown, East Bank, East Coast and Berbice, took to the stage for the night's battles.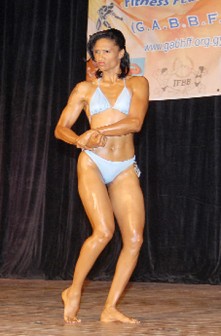 The winners and the second and third placed finishers in each category received trophies, compliments of local beverage giant Banks DIH Limited. The top finishers also benefited from supplement hampers, compliments of Fitness Express.
Contributions were also made by Hand-in-Hand, Subs and Salads, DeSinco Gama Fit Biscuits, Tons of Fun and Kross Kolor Records.
Next up on the GABBF calendar is their Annual Seniors Championship which will be held in June at the National Cultural Center.
Around the Web