By Neil Barry
Skipper Paul Castello took an eight-wicket match haul and scored 35 second innings runs opening the batting to guide Guyana Defence Force (GDF) to an outright victory over Transport Sports Club at Camp Ayanganna in their two-day Heroes Cup match over the weekend.
Batting first Transport were bowled out for 137 despite 72 from Carl Rhambarose as Costello bowled miserly to finish with 14 overs, eight maidens, 5 for 20.
GDF, in reply, made 202 with Ameer Khan scoring 48, Maxwell Fraser 36 and Combined Campuses and Colleges First Class player Gilford Moore contributing 37.
Bowling for Transport, Jonathan Alphonso picked up  3 for 27 from eight overs. TSC fared better in their second innings scoring 187 to set GDF a target of 122 to win on the final day.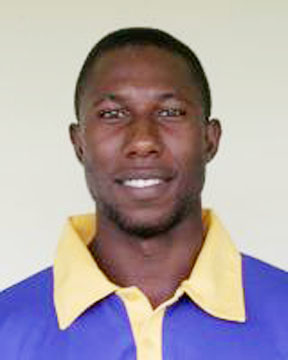 Alphonso top scored for Transport in their second innings with 30, as Stephon Sampson (28) and Carl Rhambarose (27) failed to build on starts at the top of the order. Once again, Costello caused problems with the ball, this time taking 3 for 33 from 13 overs. He was supported by Nakeitho Nestor (3 for 30). GDF  reached their target for the loss of five wickets with Jeremiah Harris not out on 44 following  a decent start from Costello who made 35.
In the other first division game completed this weekend, Police Sports Club played to a tame draw at their home ground with Gandhi Youth Organisation (GYO).
GYO  won the  toss and batted, and were restricted to 129 with Ronald Ally taking 4 for 25 and Vishal Jaigobin 4 for 10.
Police, could only muster a four-run lead, being all out for 133 as pacer Leon Scott took 4 for 34 from 14 overs and Wayne Walker 3 for 13. Batting a second time, GYO compiled 256 with Abilash Dookie and Pravindralall Persaud each scoring 55. Police, requiring 253 for victory on the game's final afternoon, batted out the remainder of the day as the match petered out yo a draw.
The Noble House Seafoods second division competition produced two outright victories for the Malteenoes and Police teams.
At GNIC on the Avenue of the Republic, Malteenoes defeated GDF by seven wickets. GDF,  batting first, scored 126 with Roger Aaron making 29. Steven Sankar took 3 for 55 from 11 overs of leg spin. MSC replied with 265 all out with Imran Hassan scoring a blazing 83 with 16 fours and one six. Jamal Norton and Antonell Atwell supported  with 39 and 32 runs respectively.
In their second innings, GDF set Malteenoes a target of 114 after making 253. MSC reached the score for the loss of just three wickets thanks to a brutal unbeaten 73 from Hassan and 25 from Nicosie Barker.
At YMCA, Camp Road, Police defeated Ace Warriors by a whopping 201 runs. Despite only scoring 190 in their first innings with Kevin Leitch top scoring with 44, and Afzal Gafoor taking 4 for 48 supported by Delon Azore's 3 for 40; Police restricted Ace Warriors to 112 with Clint Jones getting 51.
Leitch's 3 for 18 was overshadowed by Latchman Persaud's 5 for 22 from seven overs. Police scored  118 in their second innings and the 23 runs scored as extras was the only 20+ score. Clint Jones and Gafoor (3 for 20 each) and Delon Azore (4 for 25) bowled well for Ace Warriors, who stumbled to 9 for 95 (innings closed) in their chase of 297. Ronald Hercules scored 31 and Leitch had figures of 3 for 4 from four overs. He was supported by Persaud (3 for 12) and Cummings (3 for 27).
Around the Web