Even as Guyana's best bodybuilders are hard at work sculpting their physiques ahead of what is anticipated to be the biggest Hugh Ross Classic Body Building and Fitness show, corporate support is also flexing its muscle.
The event, which is fixed for the National Cultural Centre on July 28 has attracted the support of Mohammed's Enterprise of the City Mall which has pumped half a million dollars into the show.
Last Thursday, Managing Director, Nazar Mohammed handed over the cheque to HRC's Sponsorship and Finance Officer Dexter `Bushman' Garnett at their Lombard Street, Office.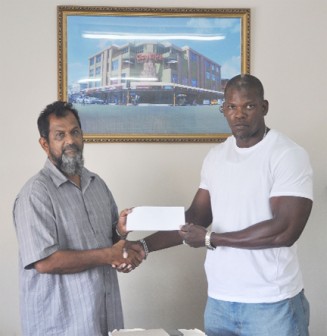 Mohammed's Enterprise has been on board with the HRC from the inception in 2008 and, in handing over the cheque, Mohammed said that there would be no hesitation in continuing the partnership with the biggest body building show in Guyana.
"We see our partnership as our commitment to the continued development of sports in Guyana and in this instance, body building. We have a wonderful track record when it comes to the support of sports and our athletes in Guyana," he said.
"Mohammed's Enterprise and the City Mall would like to encourage other corporate entities to also see the support of sports as part of their development which would ultimately impact positively on the development of our country," Mohammed added.
Garnett thanked Mohammed for their continued support while promising that this year's show will be second to none.
Around the Web