Awsome is as awesome does. On Sunday Awsome Warrior of the Jagdeo Stables, produced a stunning upset to cart off the feature race at the annual Easter Sunday horse race meet at the Port Mourant Turf Club.
Ridden by jockey Rupert Ramnauth, Awsome Warrior stormed to victory in the feature `B' and Lower event to snare the top prize of one million dollars.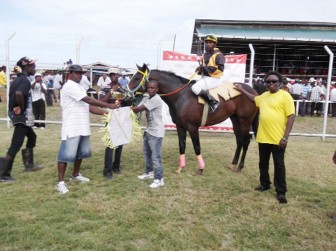 Home Bush Baby, Who is On the Case and The Clever Cat, occupied the next three places.
The Jagdeo Stables was at it again in the four-year-old 1200M event when Better that Gold, also ridden Ramnauth, proved better than the rest of the opposition despite  a long lay off and prevailed in a close finish ahead of Swing Easy,  Sabrina's Joy and Technology.
Better Than Gold copped the $450,000 first prize.
The E class 1500M event was won by Got to Go who narrowly defeated Work Force to cart off the $400,000 first prize donated by the Shariff Racing Stable and Dennis Deoroop.
Top of the Line and Face the Fire were third and fourth respectively.
Storm in a Tea Cup of the Shariff Stable, ridden by Ramnauth, won the 1200M event for three-year-old Guyana and West Indies- bred horses from Windy War; Settle in Seattle and Pride and Joy.
Storm in a Tea Cup won $390,000 for the effort.
And, Third World, of the Noel Quinn Stable, ridden by Yap Drepaul, romped to victory in the three-year-old Guyana-bred 1200m race from Watch My Shadow and I Want Revenge.
The win was worth $300,000 and the race was sponsored by Banks DIH Limited.
Celebration Time, of the Elcock Stable, ridden by Winston Appadu, won the `G' class 1200M event, the $220,000 prize money and the Laljit Trophy.
Second place went to Appealing Harvest while Face the Fire and Royal Champion were third and fourth respectively.
There was a win for Apostle of the Jeenarine Stable in the 'I' class 1200M event. The win was worth  $190, 000 and the Alim Shaw Trophy while Silver Kid of the Asraf Alli Stable and trained by Shawn Asraf Alli with Jamaican Andron Findley in the saddle, rode away with the $150,000 top prize and trophy compliments of Digicel.
Jockey  Ramnauth was adjudged the top jockey and the Jagdeo Stable copped the top stable award.
Trainer Tribuwan 'Turbo' Jagdeo was adjudged the top trainer and received awards compliments of the Trophy Stall.
Over $5M were up for grabs and over 100 horses participated in the annual one day event.
Around the Web