By Iva Wharton
Rewinna David is not your average teenager. This young lady is interested in boys but not in the usual way. She wants to fight them.
"Actually I always liked sports since I growing up," she says.
"I used to run before but when I saw the boys training, I told my mother that I wanted to join the boys over there."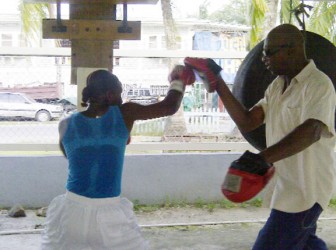 Over there was the Pocket Rocket Boxing Gym in New Amsterdam, a gym run by the popular, crowd pleasing boxer, known as Orlan Rogers.
A talk by her mother with Rogers, nicknamed `Pocket Rocket' and David was given the green light to become a Simon Pure.
So began David's career in the fistic sport at the tender age of nine.
David said she was drawn to the sport by the toughness she witnessed in the gym as the boys were training.
Now 15, David has some 23 fights under her belt, nine of which she has won. She has relocated from Berbice and now lives in Sophia with her parents.
Her first fight took place one year after she took up the sport and according to her, she was not nervous at all, as she loves to fight, but was quick to say that she does not get involved in fights.
It was her hesitancy to use her fists in school situations which led to her being forced to drop out school.
"I ain't able with them children. They only pushing me to fight and to tell you the honest truth, I don't want to put myself in any trouble.
"I was in class a day and a boy walked up to me and chucked me, asking if I pay rates and taxes.  "I told him no, and he said you will have to pay me rates and taxes because I want it in my pocket.
"In another incident I was sitting in class when a girl walked up to me and started to curse me. "I did not bother with her but went and complained to the HM who did nothing about it.
"Another day I was standing close to the rail watching the boys play football and a boy took a bottle and pelt me which missed breaking my glasses and when I complained, nothing again. Things like that would force me to fight. So I just say the best thing to do is to take a transfer."
David said while she is out of school awaiting her transfer, her mother, who is a teacher, will ensure that she does not fall back on her education.
Boxing, she says, is not viewed as a distraction from her education but is there to enhance it.
Since moving to the city, David said she has been under the watchful eye of Coach George 'Canchie' Oprecht at the Andrew 'Sixhead' Lewis gym.
"My Coach (Rogers) did not pressure me but `Canchie' pressures me.
"But I like it because it will make me a better fighter. A lot of the things that `Canchie' is teaching me, Rogers taught me but `Canchie' is teaching me more," she says.
Oprecht says David has a lot of work to do before she is able to earn the title of champion.
"You know she was pretty rough and clumsy so I am teaching her boxing skills because she is strong already.
Teaching her steps in the various angles, back, forward, left, right and how to spin.
I am teaching her the mechanics of the punches.
"It's not just about throwing the punches because what we found is that she is throwing the punches awkwardly. So she has to learn the mechanics of punching, which will see her looking good when she throws the punches. The how, the when and the where of throwing the punches, because it is not about throwing the punches or anything like that."
He went on:"Then we are teaching her range, because we see that she is missing a lot of punches because she is throwing them from too far. So we got a lot work to do on her," Oprecht declared.
According to him it will take some time but David, he says, has the potential to go far because she has the will to become a champion.
David, he said, has been with him for three months now and he has seen a lot of improvements.
"She has won two fights and the crowd response and comments by spectators' suggest that there has been improvements," he said.
The teen said that she has had two overseas fights in Barbados winning one and losing one because of her temper.
"Well, I won the first night but the second night I was disqualified. The referee was provoking me and the coach was not doing anything about it. Eventually I got frustrated and kicked the girl after she mashed my foot," David recounted.
Since coming to Georgetown and joining the 'Sixhead' gym, David says she has been able to control her temper.
Oprecht, she said, has been instrumental in getting her counselling to address her anger management issues.
The classes, she said, have been working as she is able to better control her temper.
David who will writing the Caribbean Secondary Examination Council (CSEC) this month, said she has not yet decided what career other than boxing she wants to get involved in, but said she recognizes the importance of a good education and intends to pursue it.
Around the Web