By Neil Barry
The University of Guyana, led by skipper Damian Vantull, booked a place in the final of the Noble House Seafoods-sponsored second division two-day competition when they defeated Demerara Cricket Club (DCC) on first innings over the weekend.
The win on first innings was acheieved mainly through the exploits of skipper Damian Vantull who scored a second century in successive matches  and who also bagged a  five-wicket haul.
At GCC, Bourda, GNIC took their place opposite GNIC when they got the better of Gandhi Youth Organisation (GYO) in a relatively low scoring encounter.
Due to overnight rain the game commenced at 1.30pm with GNIC skipper Elton Baker winning the toss and inviting GYO to take first strike.
GYO lost their first wicket at 19, and failed to build any significant partnerships as they were bowled out for 107 with Anthony Ifill (21) and Carlos Reid (20) failing to build on starts.
Consistent bowling from Orlando Fraser (17.2-4-44-4) and Baker (10-1-19-3) enabled GNIC to put a choke on the scoring with GYO's 107 consuming all of 50 overs.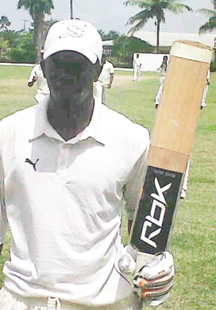 GNIC, in reply,  lost two quick wickets with the score on four as Garfield DeRoach and leg-spinner Abdool Rahim made early inroads.
But former national U-19 batsman Ejaz Mohamed made 60 to steady the chase and lead GNIC to the much sought after first innings lead as they reached 188.
DeRoach and Rahim finished with figures of 11-1-34-4 and 11.2-1-43-3 respectively.  With the momentum on their side GNIC prized out a wicket in the first over as Matthew Marques struck in his first over before a 66-run partnership between Shivand Roopnarine (31) and Anthony Ifill (42) put GYO on course to their eventual score of 166 all out.
Regular strikes from Orlando Fraser allowed him to take 6 for 64 from 18.5 0vers. Marques finished with 3 for 22 for GNIC, who lost two wickets  for 14 runs  before time ran out and the game ended in a draw.
Over at the DCC ground in Queenstown, the home team were denied first innings advantage as Demerara player Damian Vantull ran through their line up to finish with 7 for 30 from 13 overs of left arm orthodox spin. After winning the toss in wet conditions due to overnight rain and seepage under the covers, DCC invited the students to bat but were made to wait 16 overs for the first wicket as openers Dwayne Dodson (45) and Kumar Bridgelall (22) gave UG a 55-run start. Two wickets in one over from leg-spinner Troy Thompson initiated a collapse as UG were dismissed for 139 in 39 overs.
Omesh Dhanram took 4 for 28, Thompson, 2 for 20 and Dexter George, 2 for 17 from 9.5 overs.
DCC began the final day's play on 21 for 1, and lost their second wicket in the first over of the day to pacer Stephon Josiah.
The university team continued to take wickets at regular intervals and DCC were eventually dismissed for 103. With a lead of 36, the university began cautiously despite losing their first wicket with the score on eight.
But Bridgelall (32) and Melroy Stephenson (39) put together 79 for the second wicket to take the game away from DCC.
DCC picked up three wickets in the space of 13 runs to give themselves a chance of chasing s small total in the afternoon, but skipper Damian Vantull then built an innings of 120, which started cautiously before he unfurled 13 sixes and three  fours to effectively take the University to the final of the competition. When Vantull was eventually stumped in the last hour of play off Dennis `Bitterman' Squires (4 for 42 from 20.3 overs), the umpires decided to end the game.
A win by the university team in the final will allow them to compete in Georgetown Cricket Association first division competitions.
Around the Web