Rough and Rugged proved to be just that for Commacka United who was sent packing from this year's Guinness Greatest of the Streets Futsal football tournament Saturday night in Linden.
Rough and Rugged won the encounter 2-0.
The previously unbeaten Coomacka United was the only team to have won all their preliminary matches prior to Saturday's encounter.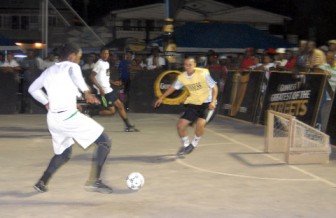 Jamie Wilson scored both goals for Rough and Rugged netting in the second and 16th minutes.
There was nothing spectacular about Amazing's performance as they were booted by Amelia's Ward Russians 3-1.
Shawn Daniels scored in the opening minute of the game while Terrence Aaron netted in the second and 11th minutes.
Errol Davis scored for Amazing in the eighth minute.
In other results, Pokerburg defeated Goal Getters 2-0 with Leon Gishard scoring both goals in the 10th and 12th minutes while Pepper Skull got the better of Trainline Warriors in a penalty shootout after the teams had played to a 0-0 draw.
Sheriff Squad, led by Collie Hercules defeated Dorado 2-0 with Hercules, the former national striker scoring in the 14th minute while Colwin Davis scored six minutes later.
Results:
Rough and Rugged beat Commacka United 2-0. Jamie Wilson 2nd, 16th min) Amelia's Ward Russians beat Amazing 3-1. Shawn Daniels 1st min, Terrence Aaron 2nd and 11th min.  Errol Davis 8th.Pokerburg beat Goal Getters 2-0. Leon Gishard 10th, 12th minutes. Pepper Skull and Trainline Warriors drew 0-0.Pepper Skull won 3- 2 on penalty kicks. Sheriff Squad defeated El Dorado 2-0. Collie Hercules 14th minute, Colwin Davis 20th minute. Top Class and Retrieve Unknowns drew 1-1. Top Class, Marvin Hartman 7th minute. Retrieve Unions, Marcello Jansen, 11th minute.
Retrieve Unknowns won on penalty kicks 2-1. Hard Knocks beat Star Boyz 3-1. Oswald Benjamin 6th and 12th minute, Randy Small 20th minute. Jermaine Mac Bean 21st minute.
Half Mile/One Mile beat Classic Six 2-0.
Seon Brewley 12th and 16th minutes.
Around the Web