By Emmerson Campbell
The name Ana Lozano might not have been  a familiar one among Guyana's boxing fans before Friday night but after the Venezuelan thrashed the World Boxing Council's  No.12 ranked boxer, Mandessa Moses in her debut bout at the Cliff Anderson Sports Hall on Friday night, she may well be on her way to world recognition.
Lozano, who has the physique of a bodybuilder with rippling abs and well defined arms and legs, dominated the lanky Moses with her aggression, speed and power punches.
From the beginning to the end of the six-round super featherweight headline bout of the 22nd edition of the Guyana Fight Night Pro Am card, Lozano took the fight to Moses landing stiff jabs, right hands and the occasional left-right combinations to the head of Moses.
Moses used her superior reach to land the occasional jab, but relentless pressure by Lozano which forced Moses to fight backwards, negated any offence Moses tried to put together.
Patrons at the venue were left with dropped jaws by round three as they sensed that Moses was on her way to an upset defeat at the hands of the debutant whose superior speed and punching power overwhelmed the local boxer.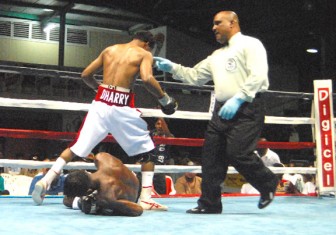 The judges scorecards read 59-54, 59-55 and 59-56 to officially present Lozano her first of what can possibly be many professional victories.
Earlier in the night WBC CABOFE champions, flyweight Dexter 'The Kid' Marques and bantamweight Elton 'Coolie Bully' Dharry each scored sensational knockout wins over their respective opponents Barbadian Ricardo 'The Brown Bomber' Blackman and Charlton 'Fighting Raja' Skeete.
Marques twice floored Blackman in round two of their scheduled eight-rounder with two separate straight right hands to the nose. He got up after the first right hand but the second one which landed at two minutes and five seconds into the round defused 'The Brown Bomber', prompting referee Eon Jardine to put a halt to the assault.
The flyweight champion's record improves to 10 wins and two losses, while Blackman has lost his 13th bout in his 18-fight professional career.
Dharry sent a cracking left hook to the rib section of Skeete taking the wind out of the 'Fighting Raja' sails, ending the fight in one minute and 24 seconds.
Skeete, who said he would bully the 'Coolie Bully' and secure his second victory of his five-fight career, was bullied by Dharry throughout the brief encounter. Dharry, a crowd favourite, had earlier sent the sizable crowd into frenzy when he landed a brutal left, right combination to the head that floored Skeete but 'Fighting Raja' got up and kept on fighting.
However, moments later, Skeete was cornered and the vicious left hand left him crumpled on the canvas for almost three minutes. Dharry's record now stands at 10 wins, five losses and one draw.
The US-based Dharry said his next fight will be against American Ernie 'Gladiator' Marquez on June 2 at the Brooklyn Sports Centre.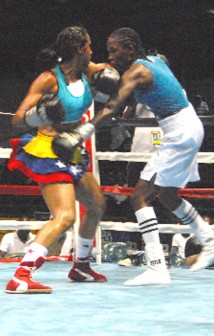 Both CABOFE champions used their fights as warm-ups for the lucrative WBC World Cup that will box off in August.
Anson Green and Jermaine King both secured unanimous decisions over their respective gym mates, David Thomas and Troy Lewis.
In the battle of debutants from the Andrew 'Sixhead' Lewis gym, Green secured his first professional victory after all three judges scored the four-round junior welterweight fight 39-37.
King won his first professional fight after seven tries by beating a sluggish, ill-prepared Lewis who was a late substitute for Iwan Azore who missed his flight from Trinidad. The three judges scored the four-round middleweight contest 40-36, 40-36 and 39-37.
King who trains at Forgotten Youth Foundation (FYF) gym as does Lewis, now has one win, five losses and a draw. Lewis' abysmal record drops to four wins, 14 losses and a draw.
Meanwhile on the amateur segment of the card, Jamal Eastman (75-79 pounds), Travis Hubbard (105 to 109 pounds), Richard Williamson(bantamweight)and London Olympic Games hopeful Burt Braithwaite (junior welterweight) all recorded victories over their respective opponents Kurt Allicock, Diwani Lampkin, Terrence Adams and Kishan Simon.
Braithwaite won his contest after referee Keith Campbell put an end to Simon's misery at two minutes, 19 seconds into the second round. Williamson and Hubbard won their fights three to nil, while Eastman secured a two-one victory.
Briso Promotions CEO, Seon Bristol and WIBA's bantamweight champion were also in attendance.
The next Pro Am card is scheduled for June 2 at the same venue.
The monthly card is an initiative of the GBBC in collaboration with the Sports Ministry and National Communications Network (NCN).
Sponsors of the event include Digicel, Giftland Office Max, Courts, Banks DIH Limited and ANSA McAL.
Caption: Ana Lozano left and Mandessa Moses going at it in their six-round super featherweight fight Friday night at the Cliff Anderson Sports Hall. (Orlando Charles photo)
Caption:  Nose Check? Barbadian Ricardo 'The Brown Bomber' Blackman is floored after he received a brutal right hand to the nose by CABOFE flyweight champion Dexter 'The Kid' Marques. (Orlando Charles photo)
Around the Web