By Emmerson Campbell
Minister responsible for sports Dr. Frank Anthony yesterday gave Guyana's  amateur boxers Imran `Magic' Khan, Stefan Gouveia and Bert Braithwaite a vote of confidence by indicating that he was sure that they can qualify for the 2012 London Olympic Games.
The boxing trio was paying him a courtesy call yesterday at his office before they head to Rio de Janeiro, Brazil today to compete in the final Olympic box offs.
"I know you have the strength, the calibre, the training and the talent to be able to go out there and do good things. Rio is just one step, the main thing is the Olympics. We have to work very hard, we expect that the three of you who are going out to Rio that you would do your best, there is a strong probability because of the different categories that you can qualify for the Olympics so that we can have a number of boxers going out in this current Olympic team to represent us in London," Dr Anthony told the boxers.
Khan, the joint Junior Sportsman and Guyana Amateur Boxing Association (GABA) Boxer-of-the-Year will compete in the bantamweight division while Gouveia and Braithwaite will face opponents in  the lightweight and junior welterweight categories respectively.
In Brazil, the three boxers will be managed and coached by GABA's Technical Director Terrence Poole.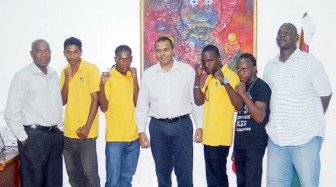 Dr Anthony said he  was confident that the boxers would qualify for the London Olympic Games and instructed them to "beat up the competition" once there and add to Guyana's lone Olympic medal.
"Once you get to London, you go up there and beat up the competition and come back with medals, and that will surely create more history for us because you know our lone Olympic medal has been in boxing and we need to equal that or to supersede that and we have a good chance this year and I want to wish you guys well. Go out there, do us proud and make sure that you move from Rio to London and then all of us will be waiting to see medals, long deserved medals, so once again all the best wishes on behalf of the ministry and the people of this country," said Anthony.
During the courtesy call GABA president Steve Ninvalle said he was  cautiously optimistic of the chances of the three boxers heading to the qualifiers. He said he was also saddened by the fact that financial constraints caused Richard Williamson to be cut from the team.
Said Ninvalle: "While we have four boxers here, only three will be going because of the fact of financial constraints because it is over $1600 US for one ticket and added to that we have to pay about US$120 per night per room for each person, so it's quite prohibitive but never the less we sorted out what we think were the boxers with the best chances and also what was a prerequisite is the amount of spaces that were left in each division."
Williamson was scheduled to compete in the flyweight division.
In an invited comment Poole stated that he is confident of all three pugilists qualifying for London.
"I expect all of them to qualify because they have a good chance to qualify, they just have to go there now and deliver."
Poole added: "I think the training was up there, they had adequate preparation mentally and physically, we did a lot of combat sparring, school boxing – it's just now for them to go and deliver."
The boxers were encamped at the Andrew 'Sixhead' Lewis gym for quite some time under the watchful eyes of Poole and Cuban coach Francisco Hernandez Roldan who is currently in Guyana on a two-year stint.
The team will return to Guyana on May 15.
Around the Web