(Reuters) – Oklahoma City Thunder dealt Dallas another heartbreaking loss in the NBA playoffs on Monday to take a 2-0 lead over last season's champions in a series that is threatening to boil over.
Jason Terry's desperation three-pointer attempt bounced off the rim as Dallas fell 102-99 to the hosts, who opened the first round series with a 99-98 win after Kevin Durant got a friendly bounce in his last-second game winner on Saturday.
The Mavericks have enjoyed no such fortune and must regroup before the best-of-seven Western Conference series continues in Dallas on Thursday.
The Mavericks' Dirk Nowitzki scored 31 points and was embroiled in a first-half scuffle with the Thunder's Serge Ibaka and Kendrick Perkins.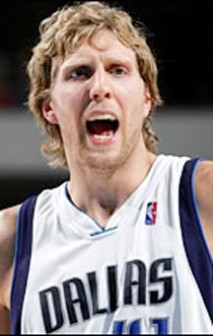 ""We don't like the cheap shots when they give them, and they don't like them if we give them," said Dallas coach Rick Carlisle. ""The dirty (stuff) has got to stop. We don't want anyone to get hurt out there."
The Thunder are relishing their new role as favorites in the series and were led by 29 points from Russell Westbrook and 26 and 10 rebounds from Durant despite a sub-par shooting night.
Oklahoma City made six successive free throws in the final minute to seal the triumph.
""Our crowd is behind us and we come out and play with our hearts," Westbrook told reporters. ""We did a good job of getting stops and we hit some big free throws in the end."
The Mavs held a one-point lead with a minute left, after they controlled Game One much the same way, but managed just one more field goal.
In the Eastern Conference, the Indiana Pacers found their range in the second half to top the Orlando Magic 93-78 and tie their first-round series 1-1.
The Pacers outscored the Magic 30-13 in the third quarter to level the series heading into Game Three today in Orlando.
David West, Danny Granger and George Hill each scored 18 points to lead the Pacers while Glen Davis had 18 and 10 rebounds for the Magic, who are without injured All Star Dwight Howard.
Around the Web